Alie Fordyce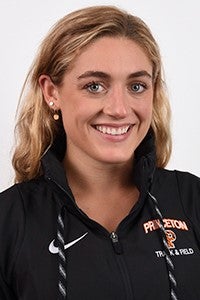 Academic Background: Princeton University, Anthropology
Area of focus in CCT: Human-Computer Interaction, Emerging Technology & Societal Impact, Tech Policy
What activities do you participate in?   I am an academic mentor for the Pivot Program (new window), an initiative of the Georgetown McDonough School of Business, that provides training in business and entrepreneurship to formerly incarcerated individuals. I am also a Research Assistant to Professor Jeanine Turner (new window), and a Georgetown NCAA Division 1 Women's Track and Field Athlete (new window).
Why did you choose CCT?  CCT fosters a uniquely interdisciplinary environment and curriculum that provides both structure and individual agency in academic pursuits.
What surprised you about CCT? My area of focus shifted while being a student at CCT in a way that I never expected: my research is now focused on responsible innovation in emerging technology and the ethical implementation of AI because of interests I discovered in my classes at CCT. The professors and staff are also extremely invested in my success in a way that I find is unique from most programs.