Nate Garlick
"I love the ability to essentially create my own degree around my own interests…"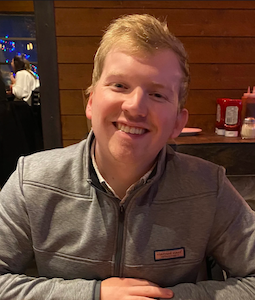 Academic Background: University of Worcester – Digital Film Production
Area of focus in CCT: Communication for Cultural and Audience Engagement.
What did you do before CCT? After graduating from the University of Worcester, I had an 18-month visa at my summer camp in Ohio working as a Marketing and Management Trainee spanning a variety of different areas and different roles, such as an Outdoor Educator, Media Coordinator, Zipline Tour Guide, Leadership Coordinator, and Marketing guru. Following the end of my visa, I worked for Disney Cruise Line as a Youth Activities Counselor going between Florida and the Bahamas!
What activities do you participate in at CCT? I work at the front desk for CCT as their Office and Technology Manager, along with producing faculty interview videos for the program. For the spring semester of 2020, I worked as a videographer for the graduate school. I am the co-director of the Car Barn Academies, but also a member of the Georgetown Entertainment and Media Alliance, and the Georgetown Wine Society.
Why did you choose CCT? I love the ability to essentially create my own degree around my interests, allowing me to truly specialize in a particular area, but also having the option to take a class or subject that I may not be super knowledgeable about, so that I had the chance to expand my knowledge.
What surprised you about CCT? How open all of the faculty are. All of the faculty are so diverse, focusing on a different area, but they are all willing to take the time to talk to you, take an interest in what you're interested in and provide any help or advice that they can.