Zhengyan Cai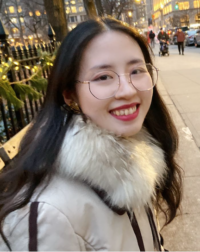 Academic Background: Southeast University, English
Area of focus in CCT: Ethnic Studies, Gender Studies & Visual Culture
What activities do you participate in?  I am a member of the executive board of Global Media Group, a club for students to share their interests and thoughts on popular culture. I have chaired two panels, on Ethnic Studies and Gender Studies, at the 2020 South Atlantic Modern Language Association. I will be presenting at the 2021 Northeast Modern Language Association on a panel on "Music in Literature." I love creative writing and my poem "Karma Befalls" (new window) received honorable mention at the Georgetown University English Department's 2020 Ora Mary Pelham Poetry Prize.
Why did you choose CCT?  I chose CCT because I have been focused on communication and culture since my undergraduate years, and I am interested in an interdisciplinary approach to visual culture, gender studies, ethnic/racial studies and popular culture. CCT is the perfect program to explore and develop my academic interests, with diverse course offerings and an active, communicative atmosphere.
What surprised you about CCT? CCT has quite a wide range of courses covering different fields and students can network with classmates and alumni via various events.