Aakansha Chacko
"The beauty of essentially designing your own interdisciplinary program is that you have the opportunity to find links between topics and ideas you might not have considered otherwise."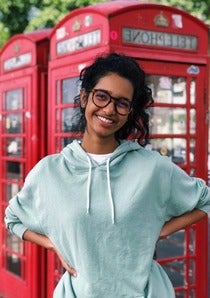 Academic Background: B.F.A. in Visual Communication Design with a minor in Communications
Area of focus in CCT: Education technology and user experience design
What did you do before CCT? Prior to CCT, I graduated from Purdue University with a BFA in Visual Communication Design and a minor in Communications.
What activities do you participate in at CCT? I am contributing to the upcoming spring edition of Gnovis by writing a book review! While not directly linked to CCT, I currently work at the Center for Student Engagement as a Graduate Assistant for Orientation Programs. I get to work with undergraduate students to design, plan, and implement Georgetown's new student orientation initiative. I also volunteer with the Georgetown University Pivot Program.
Why did you choose CCT? I chose CCT because of its interdisciplinary curriculum! Coming from a background in design and having discovered my interest for edtech towards the end of my undergraduate degree, I knew CCT would facilitate a blending of the two fields.
What surprised you about CCT? The connections you draw between the most diverse disciplines! The beauty of essentially designing your own interdisciplinary program is that you have the opportunity to find links between topics and ideas you might not have considered otherwise. The incredible diversity of backgrounds, professions, and interests is also incredibly conducive to this experience.