CCT Studio
The CCT Studio is a place where CCT students and faculty collaborate to merge theory with practice. The CCT Studio is an open lab for exploration and experimentation with a variety of media, technologies, methods and methodologies and supports classroom instruction, faculty research, and Iteration Lab activities. The Studio reflects Georgetown University's mission of educating the whole person, and CCT's commitment to teaching cutting-edge skills and methods in a context that does not privilege one form of knowledge production over another.
Supporting Creativity & Design
The Studio's goal is to provide tools and guidance in all aspects of the creative process. Studio production emphasizes the iterative design process, as well as the three "E's" that support it and lead to a project's first iteration:
Iteration – Work with students, colleagues, and visiting researchers across a range of media to develop research, scholarly, and creative endeavors. We invite interested collaborators to contact us regarding iteration workshops and project development.
Exploration – Give CCT students and faculty access to interactive and applied technologies, prototyping materials, and support for design methods and methodological development. We invite all members of the CCT community to use the blocks of "Open Lab" (check the CCT Calendar) to develop collaborative projects, incubate new ideas, and experiment with new modes of research.
Engagement – Further CCT's commitment to hands-on learning by providing access to interactive communication and design technologies for course assignments and research projects. The studio also hosts learning labs, tutorials, and workshops, with local experts, invited guests, and alumni as well as current students.
Environment – Provide a venue for multimedia exhibitions, presentations, screenings, performances, and special events. We invite suggestions and proposals for activities that share ideas, creativity, and design with a wider audience.
Find the Right Tools
Want to shoot a short film? Record a podcast? Learn 3D animation, motion capture, design your own video game, build a talking bear? We got you! The Studio houses technologies for making and hacking, media production and presentation, education and experimentation. Browse the equipment and software available at the CCT Studio for any CCT student or faculty member!
The space is configurable for a range of layouts from theater-style seating to open-area work space. Equipment includes: scanners, high-end multimedia and post-production workstations, audio and video recording equipment, whiteboard tables for illustrating ideas, AirPlay screen sharing for collaborative work, high-definition projectors, a large format design printer, multitouch and gesture-based input technologies, breadboards and components for small-scale electronics, paper cutters, hand tools, wall whiteboards, and a rainbow supply of markers.

Current students can request to reserve the CCT studio by visiting the CCT Student Handbook.
CCT Studio Team
Evan Barba
Co-director
Contact Evan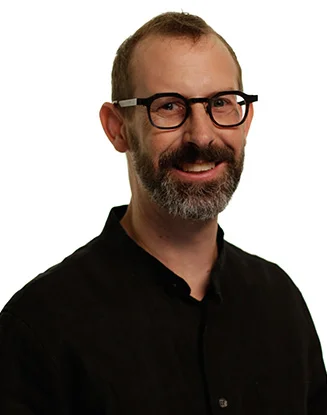 J.R. Osborn
Co-director
Contact J.R.