Jameson Spivack, CCT 2018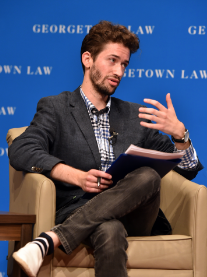 Undergraduate Institution and Major: University of Maryland, Government & Politics
Area of focus in CCT: Tech policy and ethics
What did you do before CCT? I worked in communications and marketing for an international development non-profit.
Why did you choose CCT? I appreciated CCT's inter-disciplinary approach to understanding the social, political, and economic implications of emerging technologies. I wanted to be able to think about and analyze these issues in a holistic way, incorporating approaches from various fields and traditions.
What surprised you about CCT? The range of student interests and pursuits, while still grounded in CCT's core areas of study, is really broad. This means you are always learning from your peers
What are you doing now? I am a Policy Associate with the Center on Privacy & Technology, an independent think tank at Georgetown Law. I work on research and advocacy around law enforcement's use of face recognition and other AI-assisted technologies, and their disproportionate impact on vulnerable communities.