CCT Alumni Highlight:  Janhvi Bhojwani
Posted in Announcements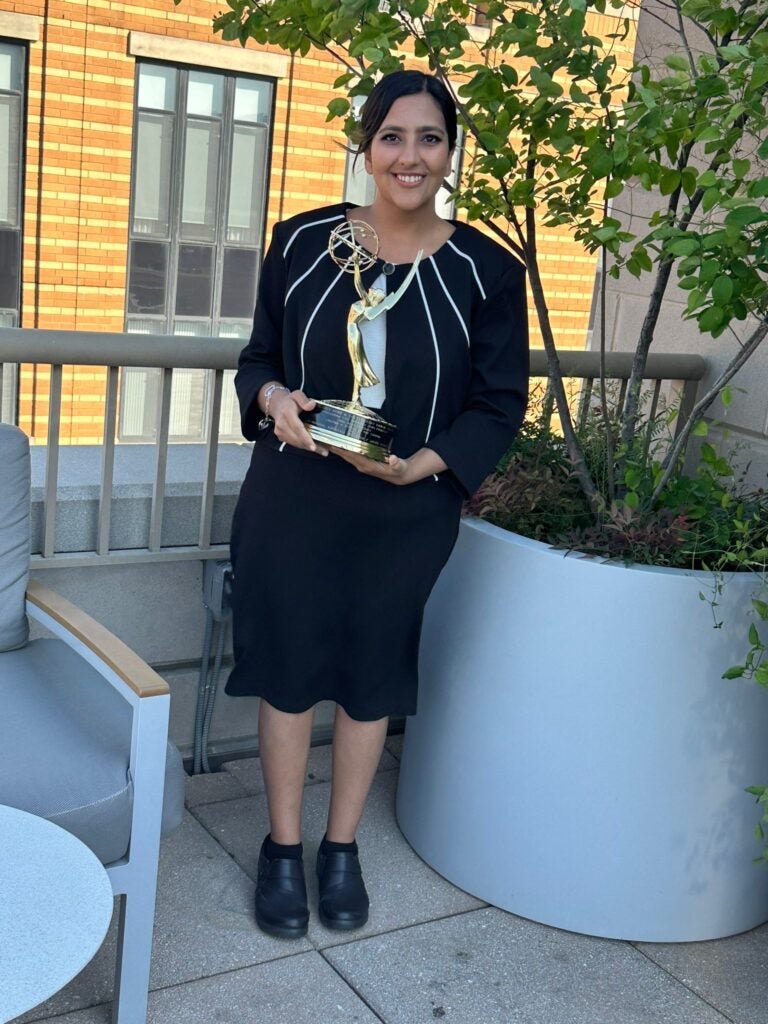 CCT is excited to highlight alum Janhvi Bhojwani (CCT '19) and congratulate her for winning an Outstanding Live Breaking News Coverage Emmy Award earlier this year for her work on the NBC News' Social Newsgathering team that covered the January 6th Insurrection in the "NBC News Specials: January 6 Attack on the Capitol."
Janhvi began her undergraduate experience as a student at the Georgetown University School of Foreign Service where she majored in Culture and Politics. She had always been interested in media and international affairs, as well as documentary filmmaking. When she discovered the CCT program, she took Professor Osborn's Documentary Video Production class the fall of her senior year in 2017 and applied that semester to participate in the accelerated program at CCT for Georgetown University undergrads. She was so excited to have found a supportive community that shared her interests and celebrated the arts in a creative environment that built off of her undergraduate studies and allowed her to progress in her academic work. She then took Professor Koliska's Journalistic Content Production class in spring of 2018, which was her first semester as a CCT student while finishing her undergrad degree. She explained how important the class was in giving her a strong foundation for understanding elements of the field she currently works in, with its emphasis on media and how technology shapes the way we communicate and use and receive information. In addition, she took two classes in the Journalism Master's Program: Photo & Video Storytelling and Data Reporting. However, CCT's more theoretical approach to understanding why the landscape is the way it is has provided her with a deeper understanding of her profession, the world, and different social media platforms.
The classes taught by Professors Osborn and Koliska were what initially got her interested in the CCT program, which she took before the mandatory 505 and 506 introductory courses. She did find 505 to be extremely helpful as it allowed her to be in the same space as the other CCT students and gave her a strong foundational understanding of the landscape of some research methods she uses in her job today, such as Boolean searches. She also greatly appreciated the flexibility of the CCT program allowing her to tailor and create her own classes. She created a class to study misinformation – her specific interest – more deeply and completed the Journalism and Digital Media Certificate by taking journalism classes outside of CCT that allowed her to practice things she learned, analyze, and tell stories. In addition, Professor Koliska's Break & (Re)Build Trust News class that focused on trust within the news cycle really stuck with her and helped her see how society migrated from radio to TV to websites and digital platforms. The older media had levels of trust, but now digital platforms can be created by anyone and spread misinformation, which sparked her interest in more deeply studying misinformation. In between her semesters going from undergraduate to the CCT graduate program, she was also a Fulbright-Hays scholar conducting field work in Indonesia leading up to their presidential elections, which further piqued her interest in the study of misinformation.
While Janhvi was a CCT student, she did several internships at CNBC her first semester ranging from photography to street interviews. She then interned full-time at the NPR Business desk where she was tasked with writing stories and finding sources. During the summer she had a social media internship at AFP with a boss who also worked on the fact checking desk. In her final semester at CCT in fall 2019, she interned for NBC's Nightly News show and started working as a desk assistant after graduating from CCT. Janhvi engaged in a program where she was able to rotate positions to gain experience around the newsroom and understand newsroom operations.
However, when the pandemic began three months later, the program adapted. She ended up logging news events for different teams, working on the MSNBC desk remotely, and eventually started working twice a week with the Social Newsgathering team where she eventually was brought on more permanently and promoted to a full-time Associate Reporter in the fall of 2020. Last July, she was promoted to reporter, which is her current position. She greatly enjoys her work and finds it fascinating to uncover misinformation online, debunk the falsehoods, identify videos, and do her own reporting. She had learned so much, reported on different topics, and contributed to her team in many ways – from the protests in Iran to the war in Ukraine to the January 6th Insurrection. She enjoyed working with different teams and shows in a very collaborative process that keeps every day diverse and exciting. She also felt she got a chance to use all her skills she learned and studied while at CCT, especially with regards to social media information flow.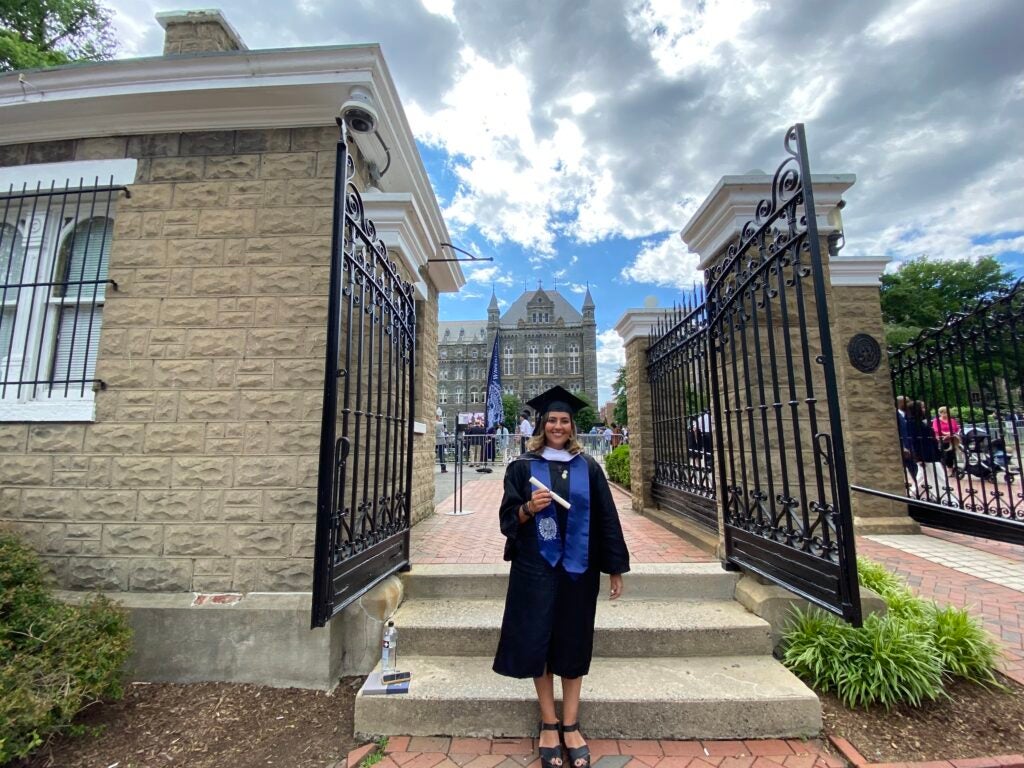 For the NBC News coverage of the January 6 Attack on the Capitol, Janhvi was part of a large team across sections from desk to photographers to those out in the field who covered this breaking news story. Her team considers themselves the first responders on a visual front line of any incidents or crime scenes. Her team monitors social media platforms and uses tools to help track possible events and incidents. They locate videos or eyewitnesses, pursue additional chatter, verify the materials sourced, and see what's actually happening to make informed decisions from a planning and coverage perspective. One example is the Uvalde shooting, where there were unclear, mixed signals from authorities so Janhvi's team had to sift through social media coverage to figure out the severity of the incident, which helps from a planning perspective on how many crews to send to the location. Her team also has a very thorough verification process and built out verification cases that indicate why something is true and verified for specific reasons. They also use Snap Map as a geolocatable tool that contains data that is helpful for verifying, in addition to Google Maps, and use a roster of tools and techniques to ensure the content they are collecting is verified.
For January 6 coverage, Janhvi and her team combed through social media trying to find available images and videos to put together, verify the information and videos, as well as reference with additional, time-stamped live videos. She was working a later shift on January 6, but as the story broke and continued to unfold throughout the day, she engaged in documenting, saving, and verifying sources to ensure all information was accurate. In the evening, she began to save profiles of the people posting or writing about being there.

In the aftermath of the January 6 coverage, Janhvi and her team continued to find and verify the social media profiles of individuals at the insurrection who later went to trial. She saved their photos and profiles just in case they took the content down, which is how social media expertise can be used to inform with reporting. Several months later when individuals were charged with the crimes, there was a constant news cycle with new people being brought forward. She explained how as the trial had more updates with more news about the people who participated, she and her team have continued to support and verify accounts that they documented on that day.
Janhvi noted that her team leaders surprised the rest of the team that they had been nominated for an Emmy, and she found out when the nominations were announced and the team had won for Outstanding Live Breaking News Coverage. She emphasized that it was incredibly cool to see a collaborative effort she participated in be so impactful and be recognized on such an important level.
Janhvi loves her job because she uses a lot of the skills and tools she learned in the CCT program in an applicable, impactful, and collaborative way in her profession and gets to see it play out in real life. CCT is incredibly proud of Janhvi's hard work and we are excited to see what she accomplishes next!
You can read more about Janhvi on her CCT alumni profile, NBC News author page, and see her team listed as Winners for the News Categories of the 43rd Annual News & Documentary Emmy Awards!