CCT Feature on Visiting Researcher José Manuel Noguera-Vivo
Posted in Announcements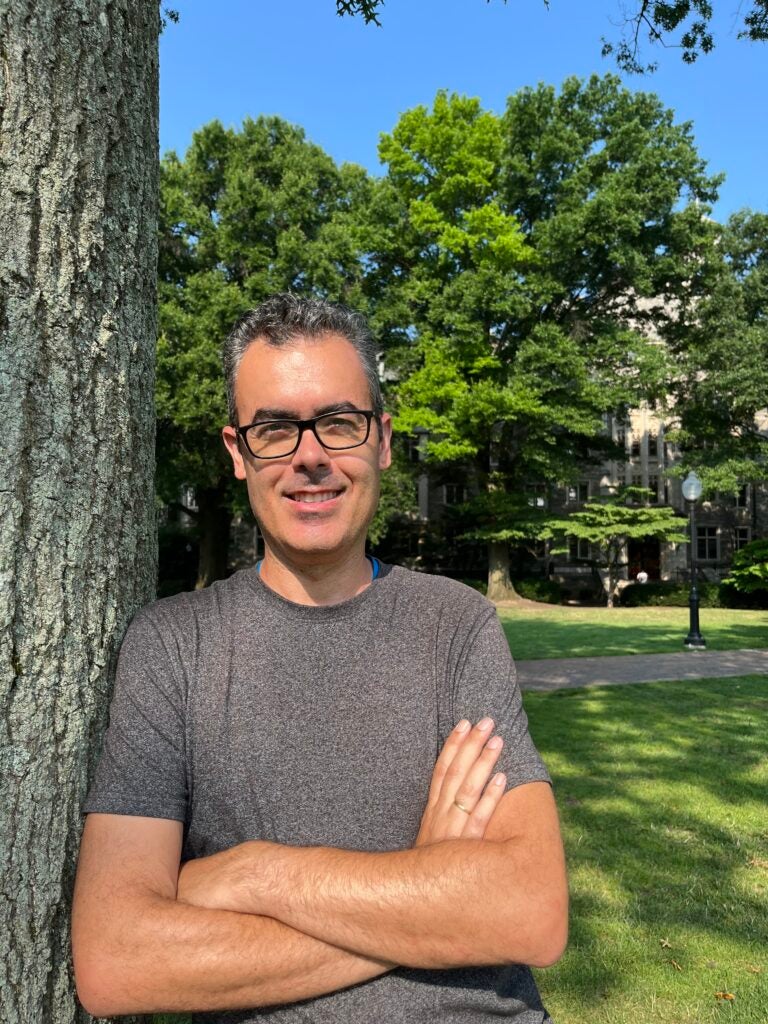 Today CCT is featuring Visiting Researcher José Manuel Noguera-Vivo. José Manuel is an Associate Professor of Journalism and Head of Research for the Faculty of Communication at Catholic University of Murcia in Spain. His research interests are at the intersection of social media, innovation, and journalism. 
José Manuel was with CCT from July through September 2023 through a research grant and collaborated with Professors Leticia Bode and Michael Koliska. He obtained the Senior Research Grant by the Spanish Ministry of Science to study the concept of algorithmic literacy within the CCT Master's Program. In addition, he has been a Visiting Scholar in universities in Mexico, Finland, Sweden, Canada, and the US; authored books on user participation and digital media; and is the local organizer of the Spanish section of the Online News Association, the world's largest network of digital journalists.
This grant in partnership with CCT taps into José Manuel's interest in how society can use new media in a better way. He previously focused on user participation and its influence in journalism, but questioned whether they can make better use of information that offers higher quality sources. When users receive information on social media, many don't know if what they are watching is news or why they are perceiving specific content. He believes with improved media literacy, viewers could have a more critical point of view about the media they consume.
José Manuel's strong desire and purpose to visit CCT was to study how communications students perceive the relevance of algorithms in terms of producing and offering better information to citizens. He aims to help citizens have a clearer way of understanding the news and parsing misinformation or fake/misleading news. In his first research stage, he conducted a focus group with CCT students and professionals. He gauged their feelings on whether they can help others improve media consumption or deal with algorithmic literacy and influence. This type of literacy can be a tricky concept, as it changes every few years with new technologies, platforms, and more complex content uses, which creates additional challenges for citizens and journalists to be proactive about.
José Manuel aims to gain future insights around specific things that can be done to educate the public, such as accessing privacy controls on TikTok. Even small steps can be very meaningful to individuals who don't know how to improve their privacy. He explained one of the first tasks he does with his journalism students is to have them search their names on Google to show them how they are perceived by outsiders. This raises their awareness on dealing with their internet persona, as they can't simply reach out to Google, and how the best solution is to start creating content in a more proactive way. He said we may not like what the platforms are doing but we can't put all the responsibility on them. This was particularly prevalent after Brexit and President Trump's victory where there was a push to have companies take responsibility for the information on their platforms and the echo chambers they propagate. However, José Manuel emphasized this comes back to each individual's personal responsibilities. Users can choose the content and people they engage with, which then teaches the platform how to engage with them. He said we typically approach the internet in a unidirectional way of what we can get from the network, but we should also be thinking about what we can give or teach the network. It is a bigger effort to make those conscious decisions every day, and both media literacy and algorithmic literacy play a large role in these interactions.
Josè wants to further explore the different impacts between influencer/user participation and new media/journalists and platforms themselves. He is also intrigued by the effects on politics and journalism careers, as the older notions of journalism still have many journalists dismissive of focusing on digitally optimizing their content. He finds that view outdated and limiting to journalists whose stories may not get the exposure they deserve. It is a challenge when journalists must become specialists in social media, metrics, and writing. In addition, he aims to challenge the term "fake news" and the framing of it as the fault of journalists, when research proves the majority comes from social media networks.
José Manuel explained that, originally, media literacy was knowing the difference between opinion and information, as well as understanding the different genres available. Now it is more complicated in a complex landscape that requires additional algorithmic literacy. He believes there is a growing field in teaching citizens better methods of consumption in terms of knowing to differentiate whether something is good information or not, as well as making their own choices and having agency online. Helping users realize that every single action on the internet is a way to teach something to the platform gives them control. He asserts that media literacy should be taught in schools in the same way students should know how to have a better diet or exercise, but this is a better diet of media. He mentioned that this is not about telling individuals what to read or not read, but that they should know the inner dynamics of each platform to make informed choices, and the key to that is algorithmic literacy. He said this is a fairly new concept with research on the topic mainly focused on google results or how to look for things, so there is still not much research about the influence of social media in news consumption and news sharing. Nowadays people don't go to the news, the news comes to the people, and his research aims to highlight the impacts of this shift.
José Manuel was excited about the opportunity to partner with the CCT program and work with CCT students on a very important, relevant subject. He recently submitted the article based on his research with CCT, Enhancing Algorithmic Literacy: A Study on Communication Students' Awareness and Understanding of Algorithm-Driven News, to a journal for publication.