CCT Professor Highlight: Karen Kranack
Posted in Announcements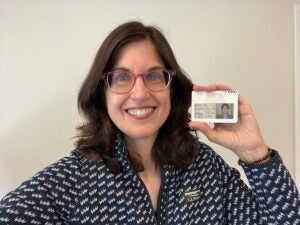 CCT is excited to highlight Karen Kranack, who is both an alum that was a member of CCT's first graduating class, and is an adjunct professor, who started teaching in August 2023.
Kranack received her BA in English Literature at the University of Pittsburgh and became very interested in Usenet groups, Netscape 0.9, and the world wide web as an undergraduate. As an English major, she had studied the printing press and Gutenberg Bible, and recognized a parallel to new media, which was about to democratize digital publishing for everyone. Additionally, she had always been interested in computers and the intersection of the arts and tech worlds, even as a kid, dialing into bulletin boards in Australia on her Commodore 64. During her last semester of undergrad ('94/95), she took a class taught by both English and Computer Science professors about coding HTML and JavaScript – this was a eureka moment for her, marrying her interests in culture and technology.
Originally, Kranack decided to focus mainly on English/Cultural Studies where she could study the impacts of technology and the Internet from a cultural perspective. Kranack applied to the CCT program for its opening class in 1996 and she was so excited to get into a program that was exactly what she wanted to do, especially at a time when people thought the Internet was a fad.
At Georgetown, Kranack cemented her belief that it is always important to understand things from both theoretical and practical perspectives. After all, how can you credibly comment on something culturally without understanding how to produce it? While studying at CCT, she was a programmer at National Geographic Online, worked at GU Medical Center and America Online, worked in experience design while working with Don Norman, author of The Design of Everyday Things, and learned to do qualitative research in order to inform excellence in design while working for the start-up HannahHodge. In fall 2023, she is teaching Qualitative Methods in Communication Research, which ties into her career in user experience design and research.

The breadth of Kranack's career has spanned across three major aspects: Information architecture (hierarchy of information), interaction design (how tech will work from an interaction perspective), and user research. Some highlights of her career include working for Lucasfilm by conducting qualitative research for StarWars.com and working on virtual real estate sales for Second Life where she had to meet clients in-world as a robot avatar. She has worked on everything from high tech to high fashion (Estee Lauder, Ralph Lauren, Club Monaco, and Intermix) to consumer brands (Coca-Cola, Mastercard, and Neutrogena) to the pharma/health space where she currently works with Montefiore Hospital System, the largest hospital system in the Bronx. She has had roles ranging from a freelance hire to full time, working both the client and agency sides. Kranack started her own LLC 2 years ago, Castle P, which she named after the Castle of Perseverance, the oldest full-length English-language vernacular play, housed at the Folger Shakespeare Library. She found the Castle of Perseverance concept compelling to her because it is one of the first plays to have a stage drawing. It's both about ideas and visualization, much like experience design itself.
While attending the CCT 20th anniversary party, Kranack connected with Professor Jeanine Turner and they discovered they were each doing separate projects for the Pope – with Kranack working on missio.org. They discussed experience design, and Turner asked if she wanted to guest lecture for her Qualitative Methods in Communication Research class, which resulted in them working together for over 7 years. She guest-lectured, wrote modules, and started an additional curriculum/expansion of the existing course content. Kranack had become so integral to the class that when Professor Turner assumed the CCT Directorship this year, Kranack took the reins on teaching the class. She has always had fond memories of CCT and believes the interdisciplinary nature of the program is so important, as culture and technology are constantly changing. She asserts that having a holistic approach has served her throughout her entire career and allowed her to change with the times, and she is excited to share that with the next generation of CCT students.
Her Qualitative Methods in Communication Research course is about gaining a strong foundation in qualitative research from both an academic and business perspective. As you observe research subjects in order to become more acquainted with their practices and challenges, you can learn to address those audiences and problem solve for them based on actual needs rather than presumed solutions. Students will come away with a number of research methods they will be able to apply to future research and work as well as a research project they can use to apply for jobs or future employment. Kranack is very excited to partner with CCT alum Shavini Fernando who founded OxiWear. Shavini is allowing the class to research her device on behalf of Oxiwear throughout the semester. Kranack is passionate about working with CCT alumni, as one of her goals is to keep the network going and help CCT be publicized in the world for the great program it is!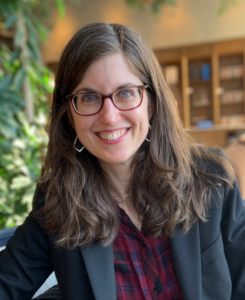 For future steps, Kranack is working on making the Qualitative Methods in Communication Research course the best it can be and continues to work on her project with Montefiore. She aims to grow Castle P by expanding her client base to work on multiple projects and bring in the multidisciplinary approach she loves. She stressed that for employment, getting qualitative research skills is another way to augment the skills you have which makes you more attractive to employers/academics in the future.
Kranack currently lives in NYC with her wife Christina, an Executive Director of Regulatory Relations at Morgan Stanley, and their dog Albee. She greatly appreciates the opportunity to be back in CCT and work with such phenomenal students.
You can learn more about Karen Kranack on her GU360 page.