CCT Students at the Association for Education in Journalism and Mass Communication Conference
Posted in Announcements
The annual Association for Education in Journalism and Mass Communication (AEJMC) Conference was held in August and CCT is excited to spotlight our students who have participated in recent years. Many CCT students are encouraged to submit and present at AEJMC under the guidance of Professor Michael Koliska. In 2022, Erin Moroney presented a paper focusing on Trust through relationships: A human-centered approach to trust in journalism. In 2023, CCT alums Nicholas Garbaty presented his paper on "It's More About Connection:" The Form of News on TikTok, and Thom Crockett and Andrew Peacock presented their paper on the subject of Trending News: An examination of journalistic form on TikTok.
CCT is proud of all our students have accomplished – read more to learn about the fascinating topics they are researching.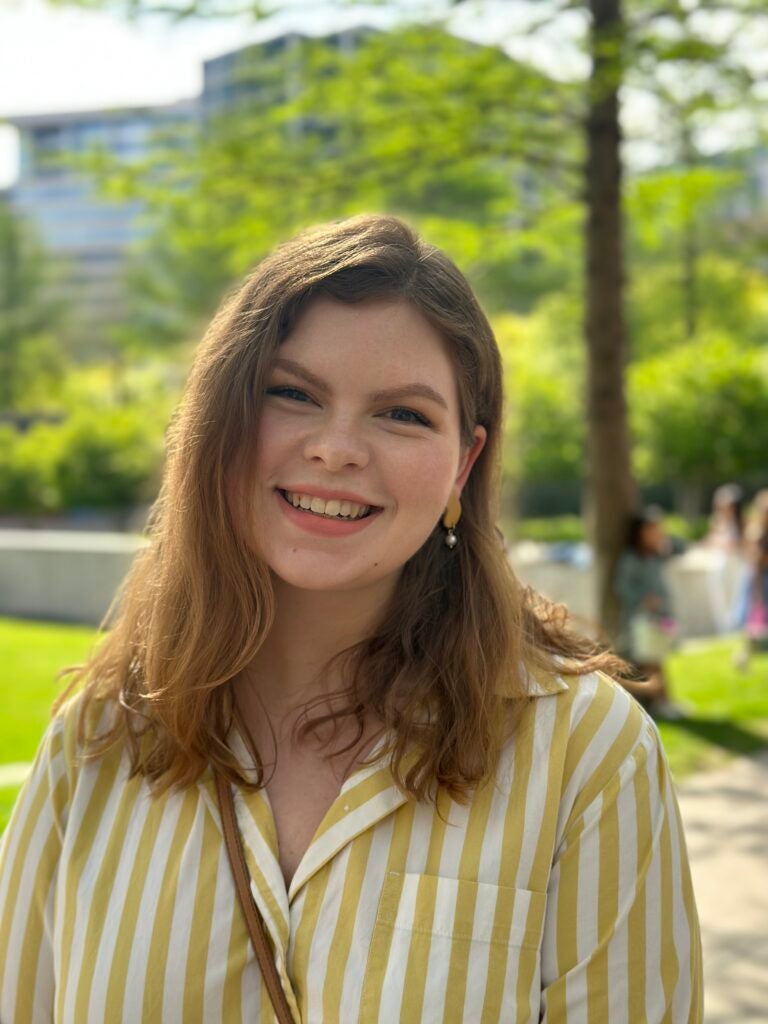 Erin Moroney
Erin first started her research for her 2022 AEJMC presentation during a final project in Professor Koliska's Spring 2021 Breaking and Rebuilding Trust in the News class. Both she and Professor Koliska agreed to keep working on the project that was a theoretical exploration of trust in news and how relationships fit into the picture, and brought Harvard PhD student David Beavers to work on the paper. They went through various iterations before submitting it to AEJMC, and it was accepted to the conference in 2022. Erin asserted that attending AEJMC was beneficial to her academic and professional development, as she gained valuable experience presenting to an audience, sharing research, listening to related sessions, and receiving feedback from moderators. After the presentation, she updated the draft that they submitted to a journal and got published.
Erin's research focused on the sociology of news and reviewed how trust had traditionally been conceptualized. She explained previous concepts of trust in journalism are based on normative values such as accurate and reliable reporting of facts. There is not much research on relational trust in journalism, which is part of how people evaluate the trustworthiness of news in ways that can be impacted by emotions, affect, or prior experiences. She noted that trust surveys very rarely ask audiences how they feel about news outlets or their relationship with them. In their research, they argue that news research and organizations are not capturing the whole picture and need to include relationships building work. Incorporating the concept of relational trust to develop a more human-centered understanding of trust in journalism may be critical in the overall development of trust in the journalistic institution. Erin aims to continue building off this presentation research while working on her CCT thesis this fall, and a version of their AEJMC paper was published in Journalism Studies this May.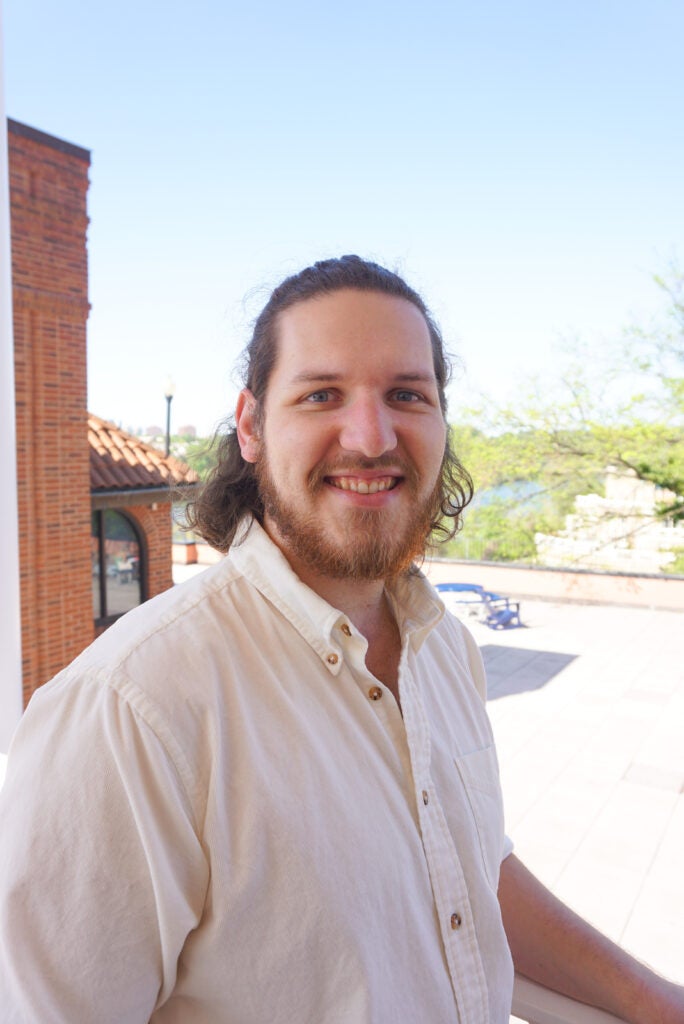 Thom Crockett and Andrew Peacock
CCT alum Thom Crockett presented the paper, Trending News: An examination of journalistic form on TikTok, at the 2023 AEJMC conference. He worked on the paper with fellow CCT alum Andrew Peacock and Willie Lieberman, a graduate of the MA Program in Engaged and Public Humanities. The paper was born from their work in Professor Koliska's Critical Studies in Journalism course. After discussing a range of research proposals, their final topic reflected a convergence of their shared interests in the concept of news form, TikTok as an emergent communication medium, and transparency in news. Professor Koliska was critically helpful in selecting a research topic that was relatively unexamined in the literature and served as a guide and sounding board for the students throughout the research and paper submission process.
Thom, Andrew, and Willie's research explores how news producers communicate journalistic form on TikTok while achieving commercial and social impact. They employed both quantitative and qualitative content analysis of news output and identifying salient characteristics of news form. Their findings suggest that news on TikTok prioritizes authenticity, approachability, and playfulness reflecting a leveling of the relationship between journalists and their audiences. Their study highlights the evolving role of journalists in producing knowledge in new digital spaces.
Andrew explained it was Professor Koliska's idea to encourage them to apply for AEJMC during the class, as he felt they could take advantage of the smaller class size and turn it into a research project. He was a guiding force to get them research conference ready, and they were excited to be on a panel, collaborate with those panelists, and discuss their findings.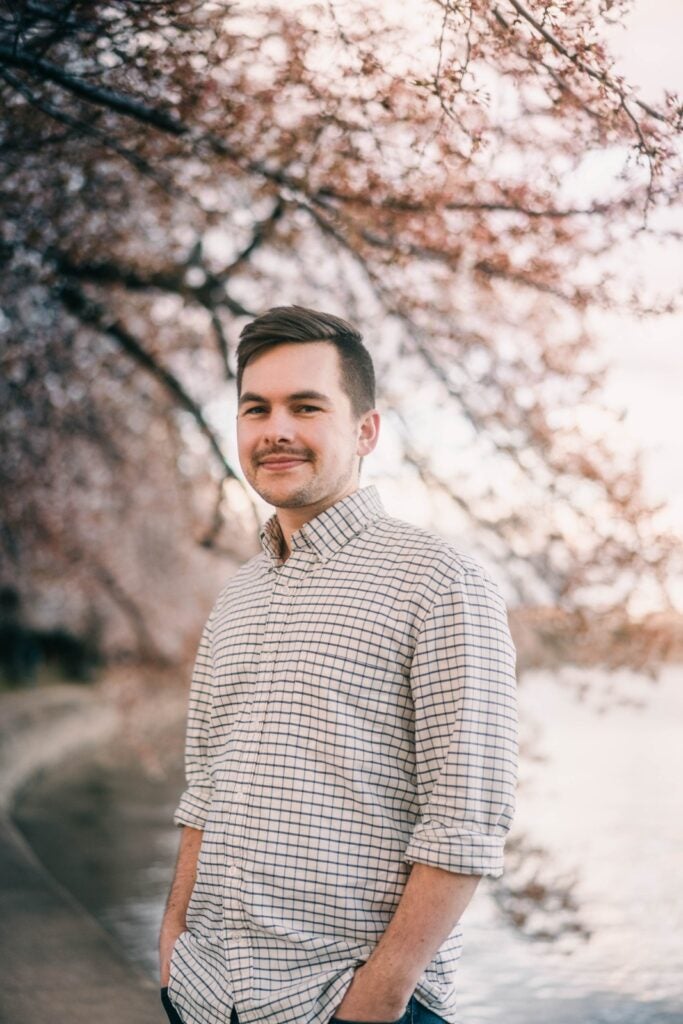 Nicholas Garbaty
When Nicholas was entering his final year at CCT, he discussed different options with Professor Koliska and decided to work on an independent study to capture his research versus undertaking a thesis. During the summer of 2022, he noticed an influx of journalists getting onto TikTok from different news organizations and he found it interesting that mainstream journalist organizations were joining the platform despite its influencer and personality focus. Professor Koliska agreed it was a great topic and together they agreed on homing in on the form of news, citing Professor Koliska's previous research on the form of broadcast news.
Nicholas interviewed 14 journalists at different news organizations to better understand how news form developed on the ground level. Through his interviews, he gained a better understanding of what journalism looks like on TikTok and the state of digital journalism overall. His research findings were that journalism on TikTok now incorporates a bigger focus on creating a personal connection with the viewer through approachable personalities viewers can identify with, rather than reserved authority figures. His paper breaks down the structural and presentational hallmarks of TikTok news form, as well journalists' experiences with the platform. He noted TikTok journalism has an emphasis on building personal connection and that journalists understood short attention spans and focused on hooking viewers quickly with a personality or charismatic element. Journalists approaching viewers as though having discussions with a friend, while still adhering to journalistic ethics and processes like fact checking and sourcing, can better connect with them and effectively report the news on this digital video app.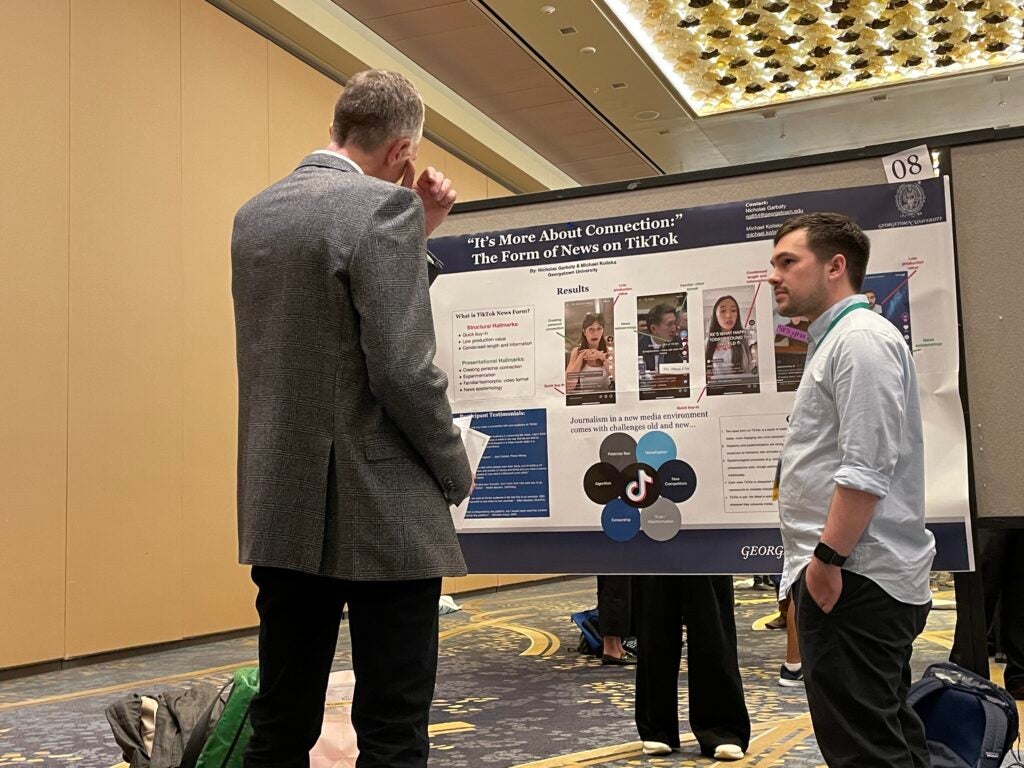 Nicholas's independent study resulted in the "It's More About Connection:" The Form of News on TikTok paper he submitted to and showcased at this year's Association for Education in Journalism and Mass Communication conference. During a scholar-to-scholar presentation session, Nicholas showed off his research with a poster and spoke with many interested academics and conference-goers. His next step is to take the feedback from the conference and work with Professor Koliska to hone the paper further, with the hopes of eventually publishing it in an academic journal.