CCT Students Selected for the McCourt Tech & Public Policy Fellowship!
Posted in Announcements
The CCT Program is excited to feature CCT students James Doyle (CCT '24), Archit Mehta (CCT '25), and Ava Schafbuch (CCT '25), who secured all three spots in the fall 2023 McCourt Tech & Public Policy Fellowship!
The Georgetown University McCourt School's Tech & Public Policy program aims to support paid fellowships for emerging technology policy leaders. For the fall 2023 fellowship, the program chose three distinguished CCT scholars to work at US-based NGO Beyond The Screen — co-founded by Frances Haugen, 2021 Facebook whistleblower and advocate for accountability and transparency in social media.
Beyond the Screen's mission is "To bring technical expertise and insider experience to a growing ecosystem of checks and balances to drive social media for the common good." The students will work closely with Anna Stoneman, Head of Product for Standard of Care at Beyond The Screen. In the first phase of this project, the fellows will publish three literature reviews on the various harms identified by Beyond the Screen as social media activities that harm national security. The new Standard for Care initiative aims to theorize the need to create a "map of social platform-specific harms as well as the levers available to prevent and mitigate those harms".
While it was an open application to all Georgetown students, all positions from Georgetown University were secured by CCTers, in addition to five fellows from Duke University. Through this fellowship, each student will have the opportunity to research multiple types of social media harms under the topic of national security harms.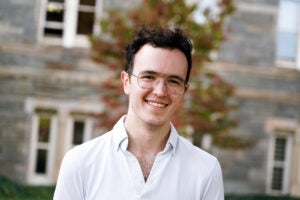 James began his fellowship by focusing on researching different conspiracy theories and how social media does or does not exacerbate the spread of conspiracy belief. He then turned to focus on the topic of deepfakes, and the ways in which their proliferation might impact our future methods of knowledge sharing online. James found that his previous CCT classes, such as Free Expression and the Global Internet, Utopian and Dystopian Narratives and Technology, and Global Cyber Policy, have helped prepare him for the research he is conducting in this fellowship.
Archit's focus is on documenting hate speech on social media, with a focus on how social media communications lead to mob violence and on the Hierarchy of Sources of Misinformation. He researched mob lynching, the 2017 assassination of journalist Gauri Lankesh, coordinated killings during the 2020 Delhi Riots over WhatsApp, and challenges around identifying sources of misinformation. He believes his transition to the fellowship was facilitated by his CCT classes: Introduction to CCT taught by Professor Jeanine Turner and Professor Michael Koliska helped him narrow down his research question and methodology, and Critical Discourse Analysis by Professor Ty Campbell helped highlight power dynamics in his research. Archit expressed enthusiasm about being in the presence of experts that are open to pivots and encourage the fellows to present their own ideas. He noted one of the reasons he joined CCT was to have access to these kinds of experiences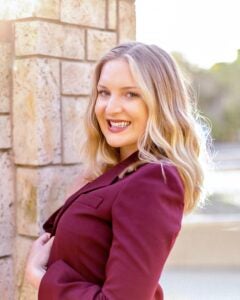 Ava first researched on the topic of recruitment of extremist belief (terrorist) groups, specifically focusing on how social media facilitates new online recruitment strategies. She found evidence that these platforms significantly transformed the landscape of recruitment strategies, expanding the reach and effectiveness of extremist organizations. She then researched the impact of social media in cartel/gang online selling and trafficking, finding that social media proliferates the buying/selling of illicit goods between gangs and drug cartels. Her research shows the national security harms that social media exasperates and the need for effective countermeasures. Ava found her Qualitative Methods in Communication Research coursework and new age media discussions in CCT classes helped her throughout this fellowship. 
After each research section, the students get to present their literature reviews to other fellows and the project coordinator for Beyond the Screen. There have also been different networking opportunities through the program where students can connect with Georgetown Tech Fellowship alums.
All three CCT fellows are confident in the importance of the work they are doing and emphasized the end goal of increased social media accountability was something they all believed strongly in. They are looking forward to researching a wide breadth of topics throughout the duration of the fellowship.
In addition, please read the McCourt School of Public Policy article on the three CCT fellows.