Brooke Merwin
"I was so excited when I discovered CCT because it truly combined my academic interest of socio-cultural anthropology with my professional experience in communications technologies."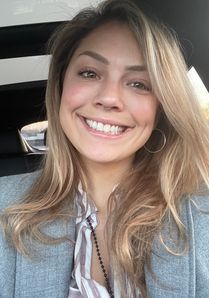 Academic Background: BA in Sociocultural Anthropology
Area of focus in CCT: Research Methods in Communication
What did you do before CCT? Before coming to CCT I spent over a decade working for the federal government, and the U.S. Army around the United States and throughout the Middle East. I transitioned to D.C.-based business consulting work in 2020.
What activities do you participate in at CCT? I am peer reviewing for Gnovis this year and participate in every CCT event that I am able. I attended a series of topic-specific Zoom meetings and I love how accessible expertise on huge variety of topics is to us at Georgetown, and at CCT specifically.
Why did you choose CCT? I was so excited when I discovered CCT because it truly combined my academic interest of socio-cultural anthropology, which was my undergraduate major, with my professional experience in communications technologies.
What surprised you about CCT? I was surprised at the mixture of experience levels at CCT amongst the student population and I was very pleasantly surprised at the teaching cadre's focus on the professional application of a degree from CCT.