CCT's Graduation Cocktail Reception – Friday, May 9th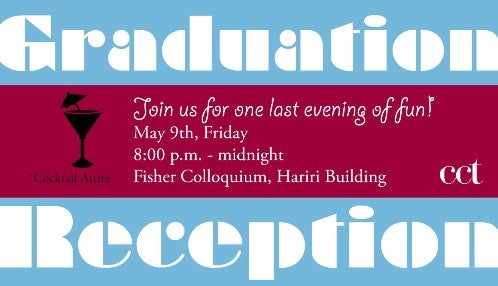 Hello CCT community,
We are excited to announce our CCT Graduation Cocktail Reception for our graduating CCT students and class of 2013! This is a wonderful event and opportunity for you to celebrate the completion of your M.A. degree with colleagues, faculty and friends.
Our graduation reception will be on Friday, May 9 and located in the Fischer Colloquium in the Hariri building here at Georgetown.
All graduating CCT students are invited and allowed to bring one guest with them to the event. We are requesting that anyone attending, RSVP for the evening as well, so that we can have a proper count of planned attendance. Here is the  event link and to RSVP as well.
CCT staff and faculty are encouraged to come as well and celebrate the accomplishments of our graduating class.
If you have any questions, please let us know. 
We look forward to seeing you there!
Georgetown CCT Program
Georgetown University
3520 Prospect St NW, Suite 311
Washington, DC 20057
e: cctprogram@georgetown.edu
p: 202.687.6618
CCT Website