CCT Professor Evan Barba Receives NSF Research Grant for Sustainable Urban Systems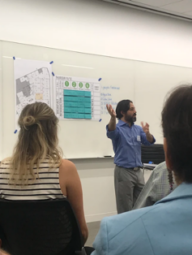 Research: Designing Sustainable Urban Systems: Features, Metrics, and Processes
Sponsor: National Science Foundation
Professor: Evan Barba (new window)
Evan Barba was awarded a competitive grant from the NSF's Division of Social and Economic Sciences for his research on "Designing Sustainable Urban Systems."  This project is a collaboration between Evan Barba, Professor Robin Dillon-Merrill in the McDonough School of Business, and Uwe Brandes from the Global Cities Initiative.
From the project description: "Our cities, and the larger urban systems in which they exist, are essential to life as we know it. Cities and their citizens generate at least 80% of the global Gross Domestic Product (GDP), and will be home to almost two-thirds of the world's population in just over thirty years if current trends continue. Cities are also interdependent with surrounding areas and therefore even more essential than these simple facts would imply. Yet, they are already facing unprecedented challenges requiring new research thinking that spans the boundaries of established academic disciplines. Developing truly sustainable urban systems (SUSs) requires new transformative research across traditional disciplines, modalities of practice and across the spectrum of urban stakeholders."
With the NSF award, Barba and his colleagues hosted a conference in September of 2019 to kick off the research network. Over 50 attendees from 30 different institutions gathered with the purpose of defining a collective agenda for the study of Sustainable Urban Systems.
An initial report from the event states that the conference sought to "bring a diverse group of participants together" and "generate a common set of cross-disciplinary concepts, methods, and topics to focus further investigation." Additionally, conference discussion was intended to uncover any clear oversights and roadblocks that might hinder progress in this research area or identify gaps in what and how we understand and measure life in the world's cities.
This conference provided a great opportunity for CCT students who participated in the event in various ways. Hélène Lerno (CCT 2020) was hired through the grant to organize the event and serve as Barba's assistant throughout the entire planning, execution, and reporting on the conference. Barba's Systemic Design for User Experience (CCTP-611) class also participated by taking notes to be used as part of their ethnography assignment, that will be used to help create the final report.
Emerging out of the conference is a clear path forward for Barba and his research. Next steps include articulating "multi-scale mixed-methods approaches" that can be used to investigate and conceptualize interconnected elements of urban systems and designing mechanisms to help decision-makers better understand the consequences of their decisions on urban life and beyond. The research will continue until June of 2021.