Cecilia Daizovi, CCT 2016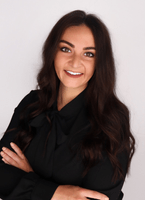 Undergraduate institution and major: Purdue University, B.A. Public Relations & Strategic Communication
Area of focus in CCT: Media and Politics, although I took a lot of classes outside of my cluster, and even a few classes outside of CCT.
What did you do before CCT? I was a full-time undergraduate student at Purdue, and I also served as the Executive Student Assistant for the Purdue Institute for Civic Communication. Additionally, I held two summer internships with the U.S. Department of State and one with the American Foreign Service Association before coming to CCT.
What activities did you participate in during CCT? I worked at the CCT Front Desk while enrolled in the CCT Program and served as both a Teaching and a Research Assistant for Dr. Leticia Bode, Dr. Jeanine Turner, and Dr. Kimberley Meltzer during my time at CCT. I also worked off-campus, so between working full-time and being a full-time student, I didn't have time for much else!
Why did you choose CCT? I chose CCT because I was interested in the technology aspect, but more from a communications perspective. I was very young coming out of my undergraduate career, and I knew I needed more education to set myself apart from every other young PR-professional going into the field.
What surprised you about CCT? What surprised me most about CCT was the number of students who were on the complete opposite spectrum as I was, technologically speaking. There are actually people in this program who can build robots and entire websites out of code – it's so cool. I came from a Communications and Public Relations background, and I never imagined I would learn so much in-depth information about technology, how it works, and what it does.
What are you doing now? I am a Human Capital Consultant for Deloitte, currently serving as the Chief Brand Strategist for Deloitte's Higher Education practice. I previously served as a Senior Strategic Communications Consultant at Booz Allen Hamilton where I was the Director of Communications for a Department of the Navy client, and provided additional communications support to the Deputy Assistant Secretary of the Navy for Energy.