Danae Theocharaki
"CCT gave me the opportunity to combine my interest in emerging technologies and human culture by exploring all the different courses and interdisciplinary paths that it has to offer."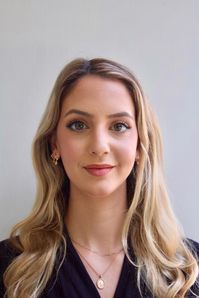 Academic Background: BA in Anthropology and Digital Studies
Area of focus in CCT: Human-Computer Interaction, Artificial Intelligence, UX
What did you do before CCT? I graduated from Davidson College in North Carolina in May of 2020 where I majored in Anthropology and Digital Studies. In August of 2020 I moved to D.C. to start my CCT journey!
What activities do you participate in at CCT? I'm an Executive Board Member of the Global Media Group where we focus on and investigate Cross-Cultural Studies, International Relations and Fan Culture! I am one of the organizers and team members for Tech Tours, which is a way to connect CCT students with tech companies and alumni around the U.S. through talks and events. I am also a tutor for the Pivot Program through the McDonough School of Business and help Dr. Jeanine Turner out with her students.
Why did you choose CCT? CCT was the perfect match for combining my background in Anthropology and Digital Studies as well as the knowledge I had gained from my work experiences! CCT gave me the opportunity to combine my interest in emerging technologies and human culture by exploring all the different courses and interdisciplinary paths that it has to offer.
What surprised you about CCT? The tight-knit supportive community! Coming from a small liberal arts school in the South, I was used to a more family-oriented environment where everyone looks out for each other both academically and socially. Coming to a bigger school I never thought I'd experience that again but CCT is the perfect support group that you might be looking for within the Georgetown Community! Students, professors and faculty members are always eager to help out in any way they possibly can and want to see you succeed in all your pursuits.