Danel Akhmetova
"CCT was the perfect place for me to bring together my various experiences, skills, and interests."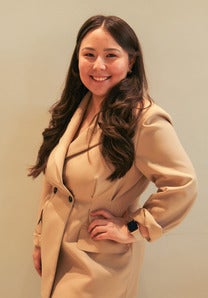 Academic Background: BA in History with a focus on Science and Technology Studies
Area of focus in CCT: Big Data, Policy, Innovation
What did you do before CCT? I worked as a research assistant for my history professors in undergrad, traveling to international archives and transcribing 18th century state documents and travel diaries. In my third year, I spent two great semesters in Spain and the U.S. An animation history class I took at UW-Madison prompted me to pursue a capstone project on the topic of global New Wave cinemas in my senior year. I was also involved in leading community service projects aimed at promoting quality education for children from socioeconomically disadvantaged backgrounds. Graduating in the middle of the pandemic in 2020 led me to discovering the exciting world of tech, as I took on a role conducting market research for a leading fintech/ecommerce company. My second job out of college showed me its less exciting side, as it involved automating calculations of business metrics and performance statistics.
What activities do you participate in at CCT? I am a Global Health Institute Fellow with the Georgetown Global Health Institute for the Fall 2022 semester. I am assisting Professor Leticia Bode in setting up realistic social media experiments for her new project on corrective practices of misinformation on social media. I am also helping to explore the topic of social media affordances.
Why did you choose CCT? CCT was the perfect place for me to bring together my various experiences, skills, and interests. I could continue discovering the exciting parts about today's technologies, such as the applications of Big Data and AI. On the other hand, I could learn how to mitigate the ever-growing risks of these technologies through policy, design, and innovation.
What surprised you about CCT? The highly supportive environment, the diverse backgrounds of both students and faculty, and the varied interests that everyone brings to the program!