Diya Wu
"CCT students have very different backgrounds and life experiences!"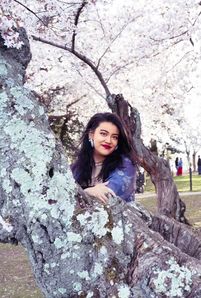 Academic Background: B.A. in Sociology from East China Normal University and University of California, Berkeley
Area of focus in CCT: Interactive Design, UX/UI Design, Game Design
What did you do before CCT? I majored in sociology as an undergraduate, interested in topics about juvenile delinquency and how jails construct certain social factors. I worked as an advertising planner, UX designer, and content operator for some Apps. During my working experience, I found my interest in UX design–my ambition, for now, is to make people's lives easier, help personal growth and deliver voice for different communities by offering a better user experience!
What activities do you participate in at CCT? I am on the XR Research Team with Professor Evan Barba, building a VR training system for local police officers. I am also the videographer for Media Fest – it's an amazing event for graduate students to present their multimedia work and have workshops together. I work for the Office of Neighborhood Life, presenting instructional videos about Georgetown community and help incoming students.
Why did you choose CCT? I like how interdisciplinary CCT is–and honestly, also because I was fascinated by the video statement's topic during my application. I thought to myself, "Wow, if a program can come up with such an interesting topic for a video essay, I'm sure it's a fun program!"
What surprised you about CCT? CCT students have very different backgrounds and life experiences! It's so much fun to know them.