Evelyn Dan Epelle, CCT 2020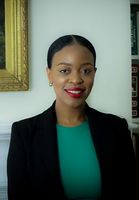 Undergraduate institution and major: All Nations University, Ghana, majoring in Electronics and Communications Engineering

Area of focus in CCT: Diplomacy, Journalism, and Digital Media

What did you do before CCT? I worked briefly in ICT Support at an NGO in Abuja before joining a luxury home automation company as a Solutions Sales Specialist selling bespoke audiovisual solutions. Prior to CCT, I served as a Producer and Channel Manager at KAFTAN TV Nigeria where I developed skills and competency in media and communications programming, including training in news content production, IPTV broadcasting, social media management, and digital marketing analytics.

What activities did you participate in during CCT? At CCT, I participated in the Apprenticeship in Teaching Program at the Center for New Design in Learning and Scholarship. I also collaborated on a human-centered design project at the Maker Hub as ¼ of #TeamAdiona, and we won the 3rd-place prize at the Georgetown Social Innovation Lab rocket pitch competition. I functioned as a Graduate Research Assistant at the McDonough School of Business, directly supporting the PIVOT program at Venture Lab. I was named a Youth Fellow at the International Monetary Fund (IMF) and served as Director of media and communications in the organizing committee of the 2020 Georgetown Africa Business Conference.
Why did you choose CCT? I chose CCT for its interdisciplinary approach to the study of communications. I found that the program will give me an opportunity to align my creative competencies in the arts and sciences to my foundational knowledge of digital communications technology. The idea that I did not have to give up one thing for another was rather exciting.
What are you doing now? I work in Abuja as a Broadcast Journalist and Head of Department for KAFTAN TV Library, Content, and Broadcast. I function as a News Anchor for KAFTAN TV News on StarTimes CH124 on weekends, and I write a dedicated column 'Global Perspectives' for the online newspaper KAFTAN Post. By leveraging technology, I am also engaged as a media and communications consultant in an Africa-focused social impact firm, Baobab Consulting where I serve as a Catalyst. Some of my work includes multimedia content production for family foundations and international organizations. I have also developed and taught a course in Documentary and Photojournalism Production via the Africa Women in Media (AWiM) online learning platform.
What aspects of CCT have helped guide your career path? Some aspects of CCT that have helped guide my career path came through experiential learning in courses like Introduction to Technology taught by Dr. Evan Barba and Dr. J.R Osborn, Leading by Design taught by CCT founding director Dr. Irvine Martin, and Communication Technologies and Organizations taught by Dr. Jeanine Turner.
In our introduction to Technology course, I was able to unpack my understanding of technology through a deblackboxing process that redefines technology within the context of a socio-technical system. I moved from my consideration of technology as an object to gaining insights into its subjectivity, and I now use this thinking in everyday problem solving that involves the use of technology. The practicality of this was also emphasized in our Leading by Design course where I was able to view myself as part of the highly complex system under analysis for the first time. I must say that this process was truly transformative and it helped me develop empathy while thinking more logically about my use of technology, its consequences, including how and why I make decisions the way that I make them. For example, it struck me the other day on my way to work that the actual process of driving a car is successful only when man, machine, and principles are in harmony. To make a successful left turn, I must obey the basic principle of signaling left, then turn a steering wheel leftwards to move a car that was intentionally designed to turn left only when prompted to do so.
Dr. Turner made the most impression on me when she used a practical build-a-skyscraper class activity to illustrate the delicate role of technology for communications within an organization. On our first day in class, she coordinated teams divided into two groups with equal access to resources but physically separated by the walls of another classroom. After exploring the difficulties in effectively collaborating on a project with limited communications among members of a group, the teams were reconciled once again to see how active and synchronous communications can impact overall performance. Its simply impossible to forget the lesson, and it has increasingly become useful to me as I envision the future of work within virtual collaborative environments where the role of communication technologies becomes central to the idea of business development.