Geneva Program
Multilateral Governance and the Global Information Economy
CCT Summer Program in Geneva, Switzerland
Application Deadline: March 3, 2016
Register HERE to attend the Feb 18th Geneva Info Session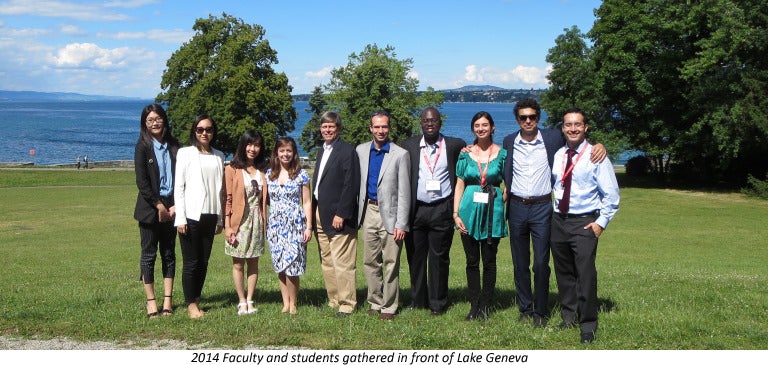 ---
Program Overview
Based in Geneva, Switzerland, this two-week program offers a substantive overview of international organizations and the issues they seek to address. Students will learn from academics and practitioners about issues of security, migration, climate change, and trade, which will feature a CCT focus on issues of global trade in digital goods and services. Students will also explore emerging mechanisms for multilateral governance, including financial inclusion at the micro-level, public-private partnerships, and civil society initiatives. Outside of the classroom, students will have the opportunity to participate in workshops and negotiation simulations, and to visit notable international organizations based in Geneva, the historic seat of humanitarianism and global governance. Upon completing this intensive program, students will gain a deeper understanding of the founding and functioning of international institutions, current international affairs, and the intricate considerations and challenges of policy-making and governance in the global arena.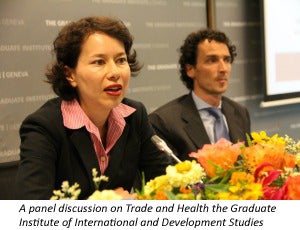 The Geneva Program offers students behind-the-scenes visits to UN agencies, international organizations, and NGOs; access to high-level officials; and, insights into negotiations processes. Students will also network with practitioners and academic experts through workshops, simulations, discussions, and classroom lectures.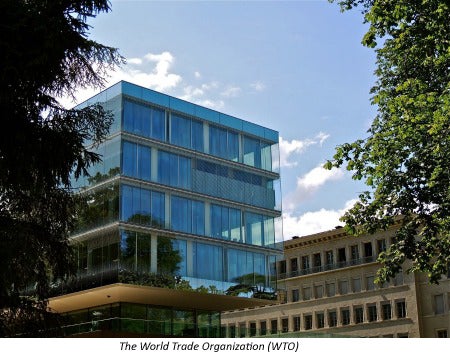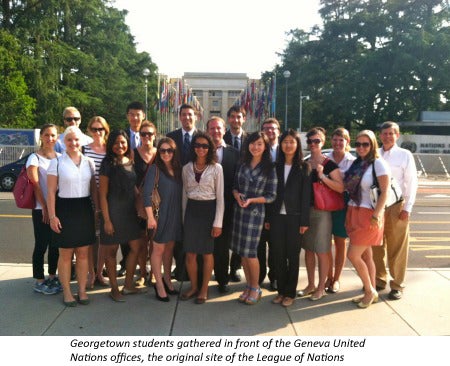 The Geneva Summer Study Abroad Program counts as three (3) Georgetown University graduate credits for students on the Main Campus.
Who Can and Should Apply?
Students interested in issues of multilateral governance should apply. Students must be prepared for a demanding and academically rigorous program. Our host institution, the Graduate Institute of International and Development Studies (new window), offers social and cultural excursions on the weekends and after class to complement the program. The events are a great way to know your student colleagues and the beautiful region.
The program is open to Georgetown graduate students. Undergraduate juniors and seniors (including students of SFS-Qatar) may apply with approval from the Geneva Program Director.
Georgetown International Business Diplomacy (IBD) Certificate students are encouraged to apply, as the program's three credits can be petitioned to count toward the IBD Certificate.
Students who are Georgetown employees are encouraged to apply, as TAP benefits cover the Geneva Program tuition.
Students from outside Georgetown are also welcome to apply with approval from the Geneva Program Director.
Dr. Mark MacCarthy, Adjunct Professor of Communication, Culture & Technology, serves as the Program Director for Summer 2016.
Dates and Application Deadlines
Program Dates
The program will take place over two weeks (14 nights) from Sunday, June 19 to Saturday, July 2.
Application Deadline:
March 3, 2016. Apply online at Study Abroad.
Program Tuition
The Geneva Program tuition for 2016 will be between $7400-$7600. Exact tuition will be determined at the end of February 2016. The tuition includes program academics, travel insurance, double occupancy hotel rooms with daily cleaning service and a private bath and kitchen in each room, some meals, unlimited public transportation within Geneva, and some administrative expenses. Each student is responsible for their own transportation to and from Geneva, passport fees, most meals, and other individual expenses not necessarily associated with the program.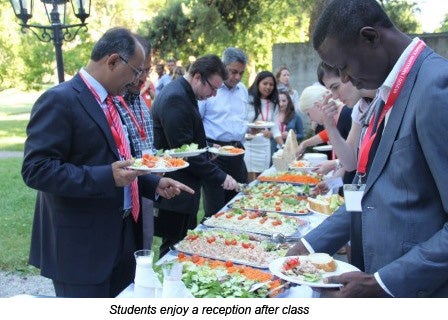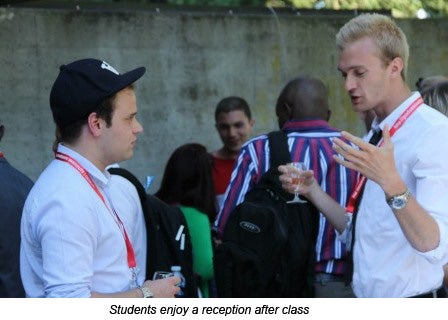 Host Institution in Geneva
Classes are held at the Graduate Institute of International and Development Studies in Geneva, Switzerland, which is also our partner institution in Geneva. The Graduate Institute is one of the premier international affairs schools in the world and the first graduate school of international affairs in Europe.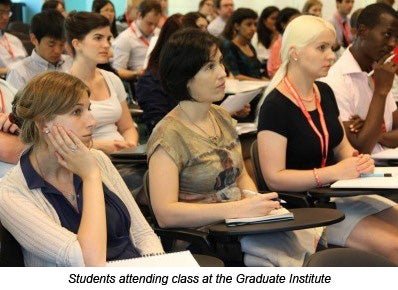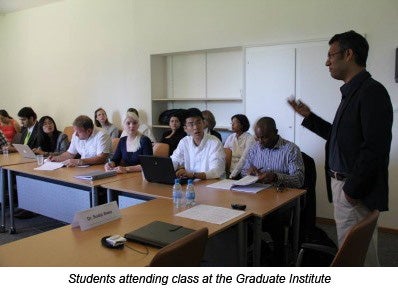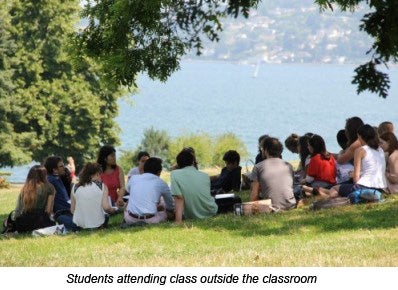 Faculty
The courses in the program are taught by a number of distinguished scholars including:
Dr. Mark MacCarthy, CCT Geneva Program Director, Adjunct Professor of Communication, Culture & Technology.
Faculty from the Graduate Institute of International and Development Studies.
The program was founded by Dr. J.P. Singh, who directed the program from 2007-2011.
Funding
If you receive federal financial aid, you can apply your student loans toward the program cost. Contact your financial aid counselor in the Office of Student Financial Services to ask about a summer funding plan.
Georgetown does not offer scholarships for summer study, but students can look for external funding to cover summer study.
Accommodations
Students reside in double occupancy rooms at the Drake Longchamp Hotel, which is a ten minute walk along the lake to the school and to international organizations in Geneva. Rooms have small kitchens and private baths. Daily breakfast and cleaning service are included.
What to Do in Geneva
Students often undertake day trips to Montreux (at the opposite end of Lake Geneva) to see the Château de Chillon and Montreaux Jazz Festival, guided visits to CERN (new window), hiking/funicular trips up Mt. Saleve for views of the Alps, wine and cheese tastings by the lake, fondue dinners, and tours of Old Town and the Italian neighborhood of Geneva.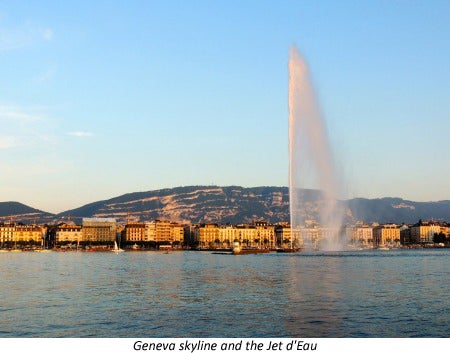 The hotel is situated in the Paquis neighborhood, which features a variety of ethnic restaurants, bars, cinemas, and supermarkets. It is a few blocks from the lake and park, where student enjoy swimming and boating. (new window)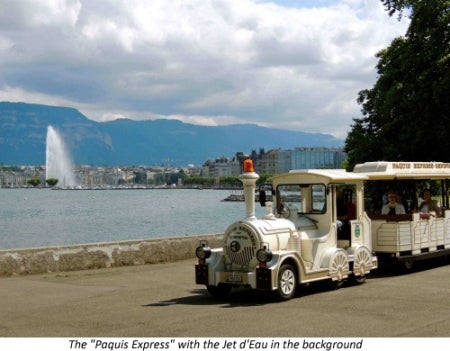 Geneva also offers many opportunities for open air summer concerts, outdoor movies, parades and festivals. Geneva is a great base for for cycling, exploring the Swiss countryside, and hiking.
Geneva has an excellent public transportation system including trams, trains, buses and taxis. Every student will receive a Geneva Free Transportation Card, which provides free, unlimited transportation within Geneva for the duration of the trip.
For more information about things to do in Geneva, check out the Geneva Tourism site, or download an example of our past cultural excursions.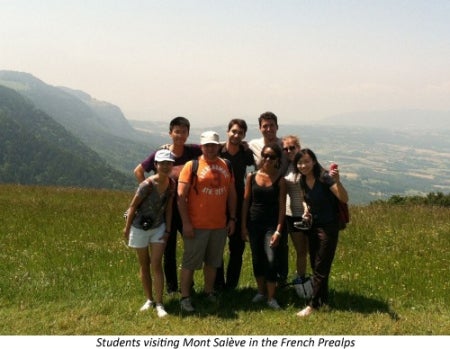 CCT Geneva Blog
Check out the day-to-day activities in Geneva on the CCT Geneva blog. The site features pictures and detailed descriptions of the events that occurred as part of the program.
Admission Requirements and How to Apply
The program is open to graduate students, and advanced undergraduates with approval, from Georgetown and other universities.
Graduate students should apply through the Georgetown University Office of Global Education (OGE) "Study Abroad" website.
1. Visit: Office of Global Education (new window).
2. Click "Search Programs" on the lower left side of the page.
3. Enter search term, e.g. "Geneva" or "Global Information Economy"
4. Click on the appropriate program.
5. Click "Apply Now" at the bottom of the page.
To apply, students must submit the following through the OIP online application system:
1. Student Application.
2. Two Letters of Recommendation.
3. Statement of Interest.
4. Transcript(s) (unofficial transcripts will be accepted).
5. Application Fee, which will be charged through Student Accounts.
Please contact Ai-Hui Tan (new window), CCT Director of Academic Programs, with questions about application procedures.
Testimonials from Program Alumni
"Having the chance to study in Geneva was a unique opportunity on so many levels – to be outside of the traditional U.S. graduate school setting and get to experience classes in the European style of teaching, to learn about pressing global issues from multiple perspectives and gain insight on the European view of major problems we face, to interact with some of these leading practitioners in the fields of international relations, development, and finance, to get to visit leading institutions like the ICRC, the UN, and the WTO. While there is some time to explore the city and surrounding areas, anyone considering attending the program should be prepared to be deeply engaged with the material and peers, and take advantage of this opportunity to further their graduate career."
–Brannon Cullum, CCT 2010
"The Geneva Program represents a fantastic opportunity to grow your knowledge in the vast world of IT policy and economics. Students get an insider view of the most influential international organizations today, meeting with high-level officials during site visits around Geneva. Before the program, the WTO, ITU, WIPO, USTR, and UNCTAD were merely acronyms I read about in class. The CCT program helped familiarize me with the city they call home, the processes that govern them, and the people who make them work. It was no vacation, but never fear: the intense learning environment was interspersed with visits to the pristine mountains and lakes of Switzerland and France."
–Tyler Lopez, CCT 2013
"A cosmopolitan city like Geneva is a great place to learn, and to see firsthand how interconnected our global society is. The value of being taught by world-class economists, researchers and development specialists cannot be stressed enough. You'll be surprised at how much you can learn in 2.5 rigorous weeks. Between site visits to international organizations like the WTO, ITU, WIPO and weekend excursions, you'll meet people from all over the world. I've used my Geneva experience in other courses as well as for career-related networking."
-Uwa Oduwa, CCT 2013
"The Geneva program gave me an unbeatable understanding of what multilateralism really means. Being able to not only understand global politics in theory–but to actually visit the meeting rooms in which global decisions are made, and to ask questions to the trade representatives that have a voice in on those meetings–truly enhanced my understanding of the global system."
–Lucas Regner, CCT 2013
"If you had to decide whether a software or an app is considered a "good" or a "service,"what would you say? At first I was surprised to find out the the international trade community still can't make up its mind about it. However, after the Geneva experience, I realized that there are so many unsolved challenges that technology issues to global trade, that it is almost a miracle if something gets solved. It was very exciting and very challenging. No right or wrongs, just a mesh of diplomatic economic and technological factors, waiting to be unraveled. Exploring these issues was very insightful. We got to meet very interesting diplomats, activists and scholars, practice negotiation simulations, take part in burning current discussions, and yes, hang out by the beautiful lake with great wine (which is cheaper than water). Overall, it was a very intensive but very insightful experience. "
-Elad Meshulam, CCT 2013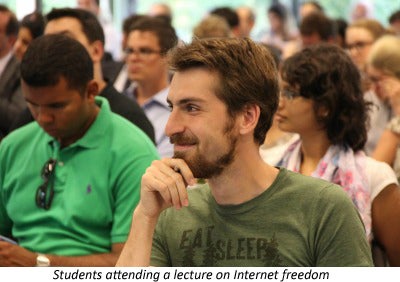 Language of Instruction
All sessions are conducted in English.
Contact and Additional Information
Please contact Ai-Hui Tan (new window) if you have additional questions.
Communication, Culture & Technology Program
Georgetown University
3520 Prospect Street, NW
Suite 311, Car Barn
Washington, DC 20057-1047
Phone: (202) 687-9163
Please note that Georgetown University reserves the right to adjust program fees or cancel any program without prior notification; however, every effort will be made to provide information on cancellations in a timely manner. In the event of cancellation, Georgetown University will refund program deposits and 100% of recoverable program fees.
[~+]