Gnovis Releases Its Spring 2017 Issue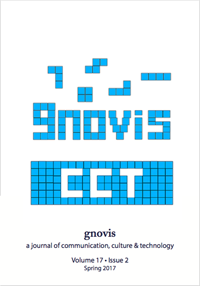 The works represented in the Spring 2017 edition of gnovis focus on the expansion of our conceptions of social activism and artistic expression as technological development continues to evolve and shape societies. Georgetown's Jewel Pereyra reveals the vibrant world of ASL poetry by presenting a history of its development and detailing its potential as an innovative medium of kinetic artistic expression; while Mark Gens examines the ways in which artistic expression and ownership have been transformed by the development of the Internet through his review of art in a "Post-Internet" era. Using a framework of communications theory, Georgetown's Tara Jabbari presents an analysis of select Science Fiction works in order to demonstrate the genre's ability to predict and mediate potential impacts of emerging technologies. Garima Bakshi demonstrates social media's potential as a tool for raising social awareness and mobilizing activism by examining its role in the well-known Nirbhaya case in India. To conclude, Amel Aldehaib explores opportunities for the development of social fabric and nation-building through a detailed case study of the work that specific youth organizations offered following the South Sudan Civil War.
gnovis (nō vĭs) is a peer-reviewed journal and academic blog run by graduate students in the Communication, Culture & Technology program at Georgetown University. We are an interdisciplinary platform for scholars to explore the relationships among technology, culture, media, politics, and the arts.
We publish journal issues bi-annually, at the end of each Fall and Spring semester. The blog offers a weekly forum for discussion and reflection on how academic theories relate to current events. In addition to publishing scholarly work by graduate students, gnovis acts as a resource for students with high ambitions, helping them prepare their work for publication and presentation at conferences.