Jessica Miller
"Something that has surprised me about CCT is the great sense of community among faculty and students."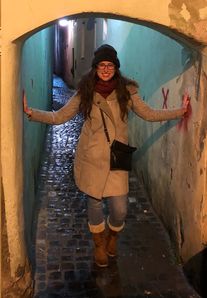 Academic Background: BA in History and Secondary Education Social Studies
Area of focus in CCT: Cultural Studies and Digital Communications
What did you do before CCT? After my undergraduate studies, I spent several years teaching overseas and in the US. I currently work as the center administrator for the Center for Eurasian, Russian and East European Studies at Georgetown University and am completing CCT part-time.
What activities do you participate in at CCT? So far, I have briefly assisted Professor Jeanine Turner as a tutor for the Pivot Program. This program is amazing, so I hope to assist again in the future!
Why did you choose CCT? I chose CCT for the many interesting classes and because it aligns with my career goals.
What surprised you about CCT? Something that has surprised me about CCT is the great sense of community among faculty and students. I look forward to partnering with them throughout my academic journey.