Josh Hubanks, CCT 2012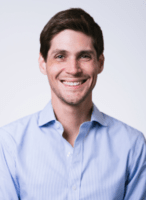 Undergraduate institution and major: University of Washington, B.A. in Communication 
Area of focus in CCT: New media and political communication.
What activities did you participate in during CCT? Outside of my courseload I was active in Gnovis, serving as a blogger, peer reviewer and outreach coordinator.
Why did you choose CCT? I was attracted by the faculty, the fields of study offered, and the program's emphasis on interdisciplinary inquiry.

What surprised you about CCT? The diversity of interests and backgrounds — both personal and academic — of the CCT student body.
What are you doing now? I'm a technology and business transformation consultant for Qvest.US, a technology and management consultancy based in Los Angeles. In my current roles as a Senior Manager and Content Security Practice Lead, I help clients like Disney, Amazon Studios, MGM, Apple TV+ and Warner Brothers develop and implement strategies for protecting pre-release content and IP.