Interview with Jay Krasnow
Date: Apr 5 '08
Region: North America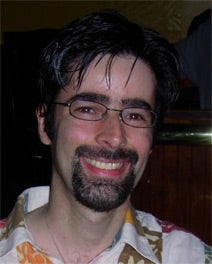 CCT Network: How are you applying your experience from the CCT program?
Jay Krasnow: CCT helped me understand the power of using the Web to network, to organize, and to express identity online. It goes without saying that this toolbox of CCT training is critical to my ability to operate as community organizer.
Likewise, as an artist, I'm applying the same toolbox that I acquired at CCT. I had an exhibit called "Dancing Cats" at Artomatic 2007 that poked fun at the irony of the commercialization of art. "Dancing Cats" detailed the transformation of art into commercial goods in today's society: cups, key chains, t-shirts. It also explored the implications of journalism in the digital age on art. As such, it had fake articles from both online and offline publications including The Washington Post and the Georgetown Hoya. Many of the exhibit's viewers actually thought The Washington Post article was real.
That's the magic of the digital age – the distinction between reality and copies blurs. I couldn't have done that without CCT.
Prospective students should know that what they learn at CCT is versatile. I wrote my M.A. thesis on the terrorist threat posed by Website job posted advertised by agencies CIA and NSA. Though I have not written on this topic in some time, what I learned from CCT remains valuable because it provided a strong foundation for success in the digital age no matter what path my career takes.
CCT Network: What have you found to be the most effective way to leverage digital art/media to promote community participation?
Jay Krasnow: I use social networking websites such as Facebook, LinkedIn, and Friendster to promote and publicize events, to seek volunteers, to report on our successes, and to seek expertise from people worldwide. Furthermore, I have found social networks to be great tools to express my identity both as organizer and artist. People in my community know who I am, and how I express my artistic vision.
CCT Network: What do you hope to achieve with your media/artistic endeavors for the next ten years?
Jay Krasnow: The trick is balancing what I need to do immediately and what I'd like to do down the line.
It took me over a year to plan "Dancing Cats" During that time that was the only project I thought about. I'm plan to spend about six to eight weeks on my next artistic endeavor – "The Twelve Labears of Bearcules," an exhibit that will recount the "Twelve Labors of Hercules" using teddy bears that Hexagon donated. Visitors can see the "Twelve Labears of Bearcules" for themselves at Artomatic 2008: http://www.artomatic.org.
In the short term I plan to paint more works using oil pastels as I enjoy the medium so much. I also enjoy poetry as an art. I've already written almost 500 haikus and other poems. Eventually I'll put them into a book. In the short-term, I plan to put some of my favorite poems onhttp://www.HyperActiveStyle.com, my online art forum.
Though I've shown my art in group shows, I'd like to do some solos in the future. I'd also like to create art for children's books. Finally, I've always loved writing and look forward to writing a novel.
CCT Network: How did you get involved in Hugs across America?
Jay Krasnow: Hugs Across America Inc. is a nondenominational, not-for-profit charitable organization providing teddy bears, curricular materials, and messages of care to lessen the fear and anxiety experienced by children in crisis. "Hugs" has created a national network of regional response centers, or chapters, throughout the country. Each chapter is responsible to its local area with "teddies at the ready" responding to circumstances of personal tragedy, as well as natural or national disasters. The Washington Chapter of "Hugs" is one of approximately 150 chapters across the U.S. that responds to the needs of kids in crisis by distributing teddy bears to them. I'm the Washington Regional Director of "Hugs."
I had planned to have an "evening of arts" for kids with cancer last fall. The idea behind the event would be to bring visual and performing artists to these kids for music, poetry, story telling, and other forms of the arts. My hope for the event was to bring inner peace to these kids through the arts. As I planned for the event I sought a donation of a large stuffed animal — a cat. "Hugs" got in touch with me and offered to donate a large teddy bear instead. I was so impressed with "Hugs" that I shifted gears and took on my current role as Washington Regional Coordinator. As raise money for teddy bears, I continue to work to bring the arts to kids.
CCT Network: What are your goals for 2008 for Hugs Across America?
Jay Krasnow: First, we'll continue having more teddy bear stuffing events. Already, we had a post-Valentine's Day teddy bear stuffing event that raised almost $500 and 120 teddy bears. In addition, a local Bat Mitzvah girl asked guests to give "Hugs" teddy bears and monetary donations instead of gifts. From these two events, "Hugs" has donated over 200 teddy bears to Georgetown University Hospital's Pediatric Oncology and Pediatric ICU departments. In addition, Hexagon, Inc., an all-volunteer political satire troupe, recently donated about 160 more teddy bears to "Hugs." These teddy bears will go other sick children. Likewise, the American University chapter of the Delta Chi Fraternity is planning a "Hugs" event this semester. Since I have ties to the Kennedy Center, I'd like to plan a fundraiser that involves "Hugs." The idea behind the event would be to raise funds to aid programming for children's arts programs. I'm also involved in the Washington metro area arts community. It's my hope to work with ArtDC –an online art forum that links artists, galleries, and collectors– to plan an art auction or other similar event to raise money for teddy bears. Beyond that, I'm always interested in hearing about other proposals to raise money for teddy bears. Other "Hugs" chapters have had events like a "Battle of the Bands" or car washes. During these events, participants have opportunities to give donations of $50, $100, or more — or even small donations. They also have the opportunity to buy Hugs products, such as teddy bear lolly pops, Hugs pins, and Hugs bracelets.
CCT Network: What is a teddy bear stuffing event and who benefits?
Jay Krasnow: It's really simple, people use soft puffy material to stuff teddy bears. Some teddy bears come "pre-stuffed;" so for those teddy bears, we write messages such as "I love you beary, beary much" on them. The kids who are sick or, otherwise in crisis benefit from the teddy bears. To learn more about the local chapter of Hugs, please visit our social network sites.
Jay Krasnow ( CCT Profile | Web page )