Livia de Queiroz Brito
"CCT has a good balance of theory and practice, which allows me to combine my research background with more hands-on activities."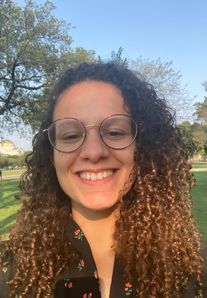 Academic Background: BA in Political Science from UNIRIO, Brazil
Area of focus in CCT: Digital politics, journalism and democracy. In a nutshell, I'm interested in studying how people communicate and consume political news nowadays and what are some possible benefits or pitfalls that can come with it.
What did you do before CCT? I conducted research on topics such as voter behavior, affective polarization and political violence. I also volunteered in social projects that aimed to help underprivileged communities in Brazil.
What activities do you participate in at CCT? I am a Research Assistant with Dr. Leticia Bode. I am also in charge of CCT outreach for the Media Fest, and I'm a volunteer Peer Reviewer for the Gnovis Journal.
Why did you choose CCT? The reason why I choose CCT is twofold: 1) It has a unique interdisciplinary approach that allows me to explore new topics and 2) CCT has a good balance of theory and practice, which allows me to combine my research background with more hands-on activities.
What surprised you about CCT? The diversity! Both the demographic diversity and student interest diversity. CCT really has a vast number of international students – which was definitely something I was looking for while applying for graduate programs – with unique interests. It's a very welcoming program.