Mary Margaret Herring
"I wanted a program that encouraged a multi-faceted exploration of some of the most complicated problems facing the fields of technology and media, and CCT offered just that!"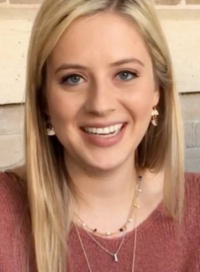 Academic Background: BA in Philosophy and Communication from Trinity University
Area of focus in CCT: User Experience/User Interface Research and Design, Research Methods
What activities do you participate in? I am a Graduate Associate at the Center for New Designs in Learning and Scholarship (CNDLS) and a Media Fest organizer.
Why did you choose CCT? CCT stood out to me because of the program's emphasis on understanding emerging technologies from multiple angles. I wanted a program that encouraged a multi-faceted exploration of some of the most complicated problems facing the fields of technology and media, and CCT offered just that!
What surprised you about CCT? The sheer number of courses focusing on different aspects of media that are all offered by CCT! This has provided me with the amazing opportunity to explore other areas of interest and meet people engaged in very different fields of study that are interested in the same problems that I am.