Mary Somyak, CCT 2011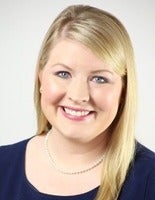 Undergraduate institution and major: Otterbein University, Broadcasting and Political Science

Area of focus in CCT: Marketing & Content Strategy

What did you do before CCT? I debated going to law school, so I was a Legal Secretary for two years prior to CCT.

What activities did you participate in during CCT? Basketball!!! I loved going to the games to cheer on the Hoyas! I also played Flag Football, attended Chimes concerts at Tombs, and participated in other on-campus traditions.
Why did you choose CCT? The diverse class options, the school's stellar reputation, many adjuncts, and the opportunities during and post program.
What are you doing now? Where are you based? I now work at Instacart as an Insights Manager. I help brands grow their e-commerce business on our platform. For the first time in my life I can honestly say I love my job! I'm based in Chicago and go into the office when needed, but I mainly work from home. I am also about to be a mom (baby girl arrives in May 2023!)! I love to read, watch sports, crochet and exercise.
What aspects of CCT have helped guide your career path?
I'm convinced that had it not been for CCT I would not be where I am in my career. The coursework, discussions, projects, and internships I had in those quick two years guided me on my path. I really made the most of what the program had to offer, working with professors to tailor my projects to my interests and using that experience to build my resume. Below are some highlights:
– Favorite courses: Product Usability with Laura Leets, Communication Technology & Organizations with Dr. Jeanine Turner, E-Government 2.0 with Michael Nelson, Contemporary Corporate Communications with Adonis Hoffman, and both stats courses by Dr. Diana Owen
– Favorite projects: Don't Stop Til You Get Enough in Critical Studies in Journalism course about Audience Fatigue, mobile tagging for innovation lab Wabi-Sabi for a UNICEF contest for an app (stats class), product usability on actual product (ecomm web-based app to shop online and try on clothes), and writing corporate communications strategies in Contemporary Corporate Communications for Weight Watchers, Southwest Airlines, & the Pittsburgh Steelers franchise
– Favorite professors: Dr. Owen, Dr. Turner, Laura Leets, Professor Hoffman
– Internships: Street Sense, National Academy of Public Administration on the Collaboration Project