Mason Weintraub, CCT 2008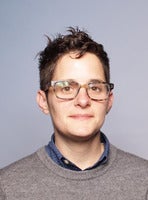 Undergraduate institution and major: Drew University, Anthropology

Area of focus in CCT: Social movements, media and technology

What did you do before CCT? Before CCT, I worked in marketing for a start-up.

What activities did you participate in during CCT? I was a peer reviewer for Gnovis and played on the CCT NerdBirds intramural soccer team.
Why did you choose CCT? I wanted to understand the role of technology in social change and I loved CCT's inter-disciplinary approach.
What are you doing now? Where are you based? I'm a consultant at a small agency that focuses on helping nonprofits during critical moments of change. I work on digital transformation and organizational design projects. Before that, I spent 13 years managing digital strategy at nonprofits, including 10 years at Oxfam America.
What aspects of CCT have helped guide your career path? CCT helped me to think about technology from both theoretical and practical perspectives. I loved the variety of classes I was able to take and I use this training daily to understand how individuals and society are using technology to influence each other, to close distances or create divisions, and to tackle our world's problems.