Megan Hearst
"The program's unique multidisciplinary approach allows you to explore different fields and follow your academic passion(s) in whatever directions they may take you."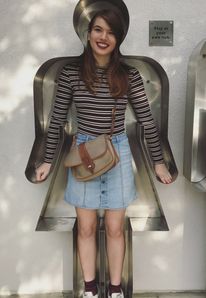 Academic Background: BA in Film & Media and English
Area of focus in CCT: Media Accountability, Misinformation/Disinformation, Internet Policy
What did you do before CCT? I worked as an Associate Editor and Producer on documentary films.
What activities do you participate in at CCT? I currently work at the Berkley Center for Religion, Peace, and World Affairs as a Student Videographer and Media Associate, a position traditionally held by CCT students. I have also been lucky enough to have a piece of my writing published by our excellent academic journal, Gnovis.
Why did you choose CCT? The name says it all! The Master's in Communication, Culture, and Technology gives you the chance to explore how technology is affecting all corners of our society. The program's unique multidisciplinary approach allows you to explore different fields and follow your academic passion(s) in whatever directions they may take you.
What surprised you about CCT? The sheer diversity of backgrounds students at CCT possess. You'll find people who have worked in journalism, computer science, film, politics, business, education, and on, and on, and on. It's amazing to get to learn from all different sorts of folks!