CCT's Prof. Mohamed Zayani's New Book on the Transformation of the Arab World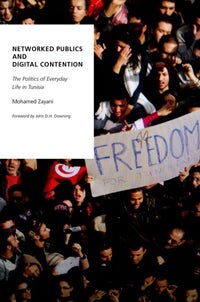 "Zayani's book is one of the best analyses of the social movements that led to the transformation of the Arab world, and a major contribution to the understanding of social movements of the digital age." – Manuel Castells, Wallis Annenberg Chair of Communication Technology and Society, University of Southern California
Read on for the publisher's book description.
How is the adoption of digital media in the Arab world affecting the relationship between the state and its subjects? What new forms of online engagement and strategies of resistance have emerged from the aspirations of digitally empowered citizens in the Middle East and North Africa? Networked Publics and Digital Contention narrates the story of the co-evolution of technology and society in Tunisia, the birthplace of the Arab uprisings. It explores the emergence of a digital culture of contention that helped networked publics negotiate their lived reality, reconfigure power relations, and ultimately redefine the locus of politics. It broadens the focus from narrow debates about the role that social media played in the Arab uprisings toward a fresh understanding of how changes in media affect the state-society relationship over time. Based on extensive fieldwork, in-depth interviews with Internet activists, and immersive analyses of online communication, this book draws our attention away from the tools of political communication and refocuses it on the politics of communication. An original contribution to the political sociology of media, Networked Publics and Digital Contention provides a unique perspective on how networked Arab publics reimagine citizenship, reinvent politics, and produce change.
For more, see an excerpt and purchase details on Amazon.