Alumna Layan Jawdat (CCT '14) published by ezine, Jadaliyya

Excited to see her work come to fruition, Layan Jawdat first wrote her essay Laughing in the Kingdom: On Saudi YouTube Comedy (new window), for Prof. Adel Iskandar's cross-listed CCT-Arab Studies course, Media and Communication in the Arab World, in the Spring of 2013.
"Getting this paper published was an exciting culmination of my work in CCT!" said Jawdat. While at CCT, Jawdat studied issues around art, media, and representation, with a concentration in popular culture.
In her article, Jawdat illustrates how YouTube has become one of few platforms where the Saudi Arabia regime can be critiqued by using low-grade humor.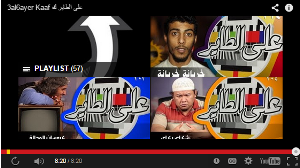 Jawdat writes, "Unlike mainstream broadcasting and other outlets available in the kingdom, all of which the regime closely monitors, content on YouTube is not controlled by the government or the large Arab media conglomerates…(and) remains the only platform that Saudi youth, including stand-up comedians, are choosing to post and share original content that is then viewed by a wide audience often numbering in the millions."
Jawdat is now working at a young marketing and experience design firm in DC called 360 Live Media (new window).
[]