CCT Alumnus accepted to Israel Tech Challenge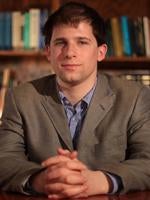 Jeremy Pesner '13 has recently been accepted to the Israel Tech Challenge (new window) Experience. The program brings promising young Jewish technologists to Tel Aviv for a ten day whirlwind of hackathons, meetings with academics and high-tech leaders and Israeli cultural experiences. Pesner likens it to a "Birthright 2.0," in which the iconic ten day trip for young Jews is run again with a focus on technology and Israel as the Start-Up Nation.
Pesner is no stranger to this subject. While a student at CCT, he took a course on National Innovation Systems in Georgetown's Science, Technology and International Affairs department, where he researched the aspects of Israel's government, culture and tech talent that has made prolific innovators of the country's citizens. This led to his Israeli science and tech exchange initiative through the PresenTense (new window) fellowship, which he completed earlier this year. Pesner credits both of these opportunities as enhancing his application and overall eligibility for the Tech Challenge Experience, and is grateful to all those who helped him achieve his milestones along the way.
"This is a very exciting and wonderful program," Pesner stated. "It will help me to bring my professional interests and cultural background together in Israel, the Jewish homeland that I haven't visited in over four and a half years." 
[+]