CCT's Prof. Diana Owen receives Daniel Roselle Award
CCT professor Dr. Diana Owen was presented with the Daniel Roselle Award by the Middle States Council for the Social Studies (MSCSS) on February 27, 2016 at their 113th  Annual Conference in Annapolis, Maryland.  The Roselle Award was established to honor the legacy of Dr. Daniel Roselle, Past President of MSCSS and long-time editor of Social Education.  Dr. Roselle, an historian, author, research, and educator, was a stalwart in the growth of the National Council for Social Studies. This award is given for outstanding achievement in social studies research, teaching, and professional excellence.  Founded in 1903, the MCSS is the oldest professional organization devoted to social studies organization in the United States  http://www.midstatescouncil.org/mscss-conference-keynote-speaker-announced/ (new window).
Dr. Owen gave the keynote address at the conference which focused on the ways in which social studies teachers and civic educators have responded to societal developments and changing notions of citizenship.  She presented results of research that she has conducted indicating the success of civic education in conveying knowledge to students and instilling civic dispositions and skills that are long-lasting.
Dr. Marcie Taylor-Thoma, President of MSCSS, presents CCT professor Dr. Diana Owen with the Daniel Roselle Award.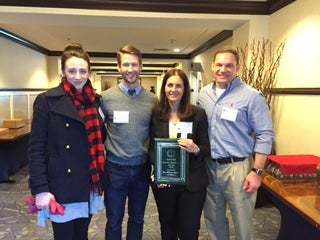 Dr. Owen and her CCT research team, Jilanne Doom, Isaac Riddle, and Scott Schroeder, at the MSCSS Annual Conference.