CCT Student, Amanda Andrei, Showcases Her Talents Through Her Typhoon Haiyan Photo Essay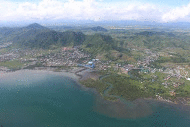 Amanda Andrei is a second year graduate student in the CCT program, with a background in anthropology, theatre, and journalism. As a mixed race Filipina American, she is interested in the Philippines and active in the Fil-Am community. Her interest in disaster studies began Typhoon Haiyan (Yolanda) struck in 2013 while she was studying mixed language social media in the Philippines. She visited Tacloban, Leyte (one of the hardest hit areas by Typhoon Haiyan/Yolanda) as a solo traveler to gain a greater understanding of the situation on the ground. She plans to conduct a participatory design workshop for Filipino Americans to also gain a greater understanding of the typhoon, and these photographs will be integrated into the workshop as part of other multimedia communication and artistic techniques. 
For her project, she used a Gelardin camera plus a Lynda.com tutorial.
View her project at the Gelardin Showcase

(new window)
[]