CCT Student tackles "fake news" at Salzburg Academy on Media and Global Change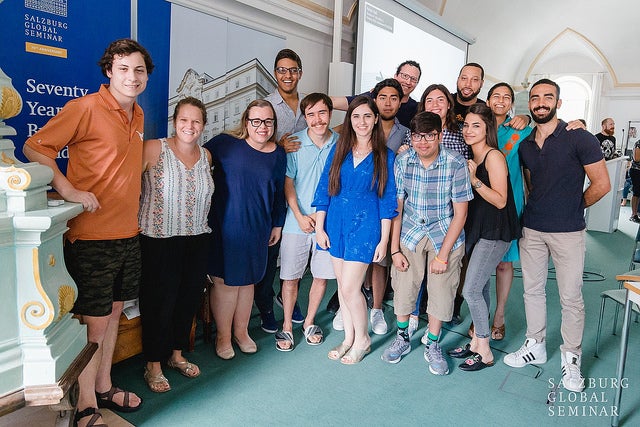 For three weeks this summer, CCT Student Deborah Oliveros joined more than 70 students from around the world at Schloss Leopoldskron in Salzburg, Austria. The students came together at the Salzburg Academy on Media and Global Change to examine the global trend of misinformation and distrust of the media and develop tools to resist this growing digital epidemic.
Over the course of the program – entitled Re-Imaging Journalism: News and Storytelling in an Age of Distrust – university undergraduate and graduate students took part in plenary sessions, workshops, reading groups and hands-on exercises that challenged their perspectives, provided opportunities for thinking outside the box, and transformed their ideas into action. Topics covered included critical media making, the intersection of civic imagination and civic media, the bridging of cultural divides, journalism ethics, and media literacy.
Georgetown student and Salzburg Academy Fellow Deborah Oliveros says: "The Academy is a safe space for exploration, to ask questions [that] you might feel uncomfortable asking in your regular environment or you might not feel safe, [where] that might prevent people from asking questions because they don't want to seem ignorant or they don't want to seem that they are not up to their peers. This is a safe space to ask questions without limits."
Launched in 2007 by Salzburg Global Seminar, the Salzburg Academy on Media and Global Change has taken a pioneering lead in media education with a focus on media literacy and civic engagement. Academy alumni have been inspired to become change-makers and leaders in education, media, technology, and politics.
The program was led by an expert faculty of both academics and practitioners including award-winning journalist, Daniela Rea, Google tech lead, Dan Russell, Global News Director for Buzzfeed News, Ryan Broderick, and Susan Moeller, Director of the International Center for Media & the Public Agenda and Professor at College of Journalism and School of Public Policy at the University of Maryland.
"What impressed me most [about this year's program] was the engagement and sensitivity of such a diverse group of students to the cultural and social nuances that make the concept of trust so complex," says Paul Mihailidis, program director of the Salzburg Academy and associate professor at Emerson College in Boston, USA.
"They found ways to educate and inspire each other, faculty, and the outside world through their own storytelling. The energy was palpable and the result is that not only are we forging new avenues for journalism, but also for those involved in the experience themselves."
As part of the work they undertook together, this global cohort produced the online publication Persist: New Ideas for Journalism in an Age of Distrust, which can be viewed on Medium.