CCT Students attend 43rd TPRC

Seven CCT students attended the 43rd Telecommunications Policy Research Conference (new window) (TPRC) on Communication, Information, and Internet Policy. The 3-day conference took place at the George Mason University School of Law in Arlington, Virginia on September 25-27. 
Each year, students are sponsored by CCT to attend the conference. Topics of of this year's conference included Domestic Content Policies in the Broadband Age; Privacy, Copyright, and Internet Access; and Industry as an Audience for Academic Policy Research.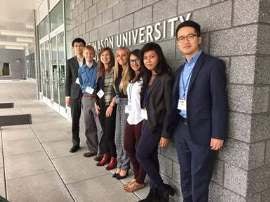 May Shandia, a first year CCT Student, had the opportunity to meet with practitioners and scholars from around the world.  "I really learned a lot from the conference in terms of hearing the latest issues related to Internet policy, copyright and intellectual property," Shandia said about her experience at TPRC. Molly Crain, Yirong Mao, Supriya Sharma, Casey Tilton, Kait Williamson, and Xiang Zhang also represented CCT at the conference. 
TPRC promotes interdisciplinary thinking on emerging issues in communications and the Internet, disseminating and discussing new research relevant to policy questions in the U.S. and beyond. It serves researchers, policymakers, and members of the private sector and civil society, from students to well-established practitioners. Every year, TPRC brings together a diverse, international group of researchers from academia, industry, government, and nonprofit organizations to challenge each other's ideas and to interact with policy makers and members of the private sector.
[]