CCT Students present at KMWorld 2015 Conference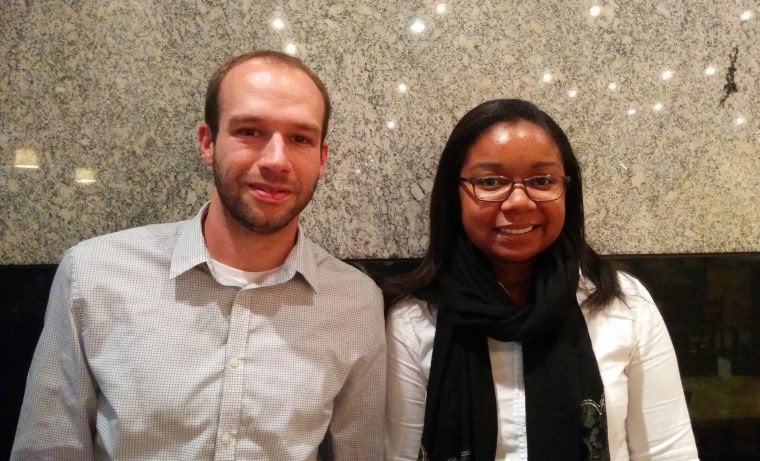 CCT students Shaqueta Pierre and Justin Kollinger presented a workshop on knowledge management maturity assessments at the KMWorld 2015 conference (new window) alongside CCT Professor Denise Bedford and Margaret Camp of Wolters Kluwer. The workshop discussed the importance of context in evaluating the progress of knowledge management in an organization and how to tailor an assessment to the organization's goals. The conference took place at the JW Marriott in Washington, D.C. on November 2-5, 2015.
Pierre and Kollinger are conducting a knowledge management maturity assessment of a Fortune 500 manufacturing firm under the guidance of Dr Bedford and as part of their independent study. This is the third iteration of the assessment with Dr. Bedford's students participating each year. 
The attendees at the workshop included both seasoned and new knowledge management professionals from across the United States and Europe who came from diverse industries including technology, government, manufacturing, and defense.
"It's intimidating, as a student, to stand in front of a room of people who actually work in the field," Kollinger admits. "These professionals are embedded in their organizations enacting real change, something I've only seen from the classroom. But I was able to comfortably answer many of their questions. It was a confidence booster for me, and I'm glad that I was able to provide a new perspective for them to reflect on."
The annual KMWorld conference is the leading knowledge management and enterprise solutions trade meeting that provides focused professional development, hands-on workshops, and networking opportunities in knowledge management, taxonomies, and enterprise search tools. For CCT students, this conference offers a valuable view of the interplay of systems, people, and organizations, as well as the impact on organizational outcomes.