CCTers at InfoSocial Conference, March 2018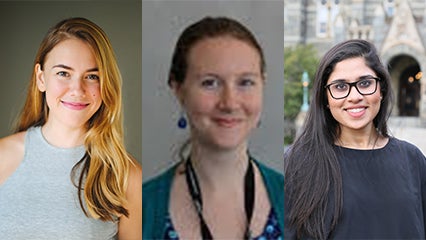 Three students are set to represent CCT at InfoSocial 2018, a student-run research conference held at Northwestern University. Madhavi Reddi, Rebecca Kielty, and Ellen Kaufman will present their research at the conference, March 9 -10. In addition to showcasing graduate student research on the role of technology in contemporary society, InfoSocial also offers graduate students a platform to receive objective criticism of their work. The conference is inherently interdisciplinary with paper submissions from fields including Human-Computer Interaction, computer science, and political science. 
The vastly different topics these students will be presenting on exemplify the varied interests of CCT students and their areas of focus within the program. Ellen Kaufman will present an early iteration of her thesis, "Some Body to Love: A User-Driven Study of Sex Dolls, Artificial Intelligence and Why Design Matters." Her thesis explores the social and ethical implications of anthropomorphic sex robot design–a representation of her academic focus at CCT: the confluence of emerging intimate technologies and artificial intelligence. 
Rebecca Kielty will present on user expectations in postal and electronic mail. Her research at CCT focuses on ICTs and privacy. 
Madhavi Reddi's presentation is on the multi-communication and the fluctuation in social presence during the Carnatic concert – the social presence of audience members changes in response to different features of the Carnatic concert across its duration. Her academic focus at CCT is the relationship between film and society particularly as it pertains to Indian cinema and the Indian diaspora. Currently, Madhavi's thesis explores how Indian Americans talk about arranged marriage through the lens of Hindi cinema.