Coding for the Vatican: CCTer Lucy Obus was part of the winning Georgetown team that competed at the first ever VHacks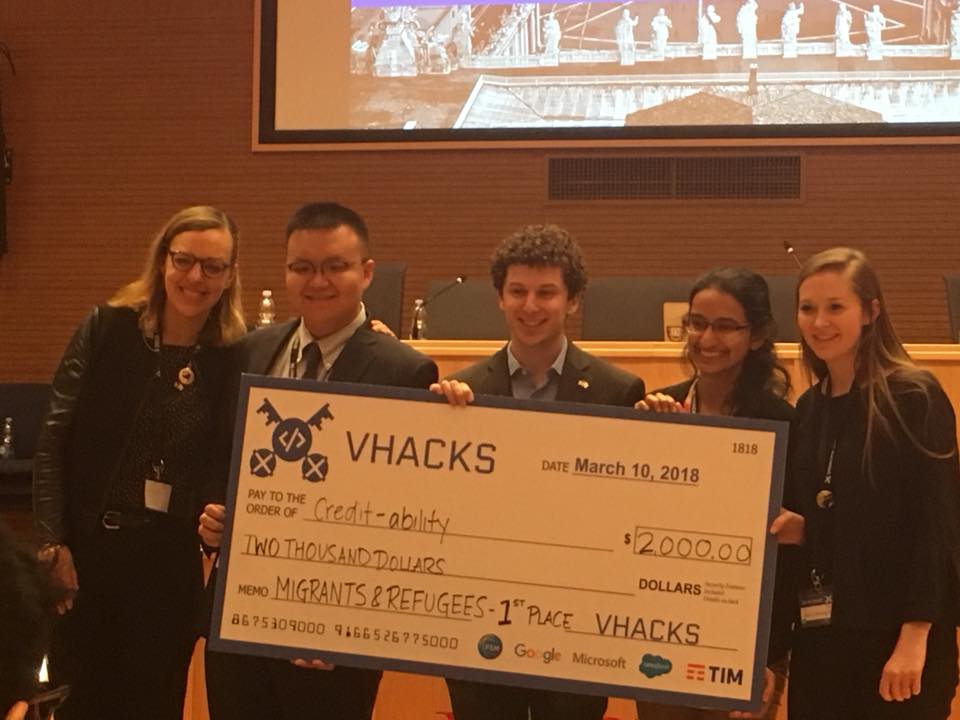 Before starting the CCT program, Lucy Obus never saw herself in tech. Then things changed. On March 8, 2018, Lucy, along with four other Georgetown students, not only competed at VHacks, the first ever Hackathon held at the Vatican, her team won first place in the "Migrants and Refugees" category. Before she left for Rome, Italy, we asked Lucy to tell us more.
What exactly is VHACKS?
VHacks is the Vatican's first ever hackathon. It will take place over three days, March 8-11, in and around Vatican City. Students from universities all over the world come together, leveraging technology to address some of the world's global challenges. This hackathon's inaugural themes are Social Inclusion, Interfaith Dialogue, and Migrants and Refugees. I felt like it was such a cool and impactful opportunity, especially given Georgetown's commitment to social justice and interdisciplinary perspectives.
How did you first hear about VHacks?
I discovered the project through my time in the Maker Hub at Lauinger Library and as part of a course on Global Social Innovation last fall, with Professor Holly Wise. Don Undeen, who is head of the Maker Hub, suggested it to me, I applied, and now we're going to the Vatican!
How has CCT influenced and shaped your position on the team?
The team itself is made up of five roles: three programmers, one general researcher, and me, the designer. I will be responsible for graphic and visual design, and hopefully inject design thinking processes into the work. We chose to focus our topic on refugees and how you can use technology for social impact, which is essential to Georgetown and CCT's mission statements. Our team meets weekly to prep and take advantage of the many resources Georgetown's network has provided us. I certainly didn't qualify myself as a designer before graduate school, but CCT has allowed me to apply creative perspectives to tech environments, without losing my love of social impact and business applications. CCT's relationship to the Maker Hub allowed me to experiment with technology, and this experience has shown me how to apply CCT's interdisciplinary thinking to codeswitch between sector experts. It's fun to bring together other people and to see the look of surprise in their eyes when you ask them to think in a different way.
What do you think you will gain from this experience at the Vatican?
I learn best from experience and get frustrated doing a lot of talking (about stuff) but not doing (the stuff), especially with design thinking and human-centered application. I'm excited to have an intensive experience where we research, ideate, prototype and pitch- soup to nuts! I'm also looking forward to working with people who think completely differently than I do. This is a great closeout to my Georgetown career, to be able to work with people across campus, and prepare myself for the interdisciplinarity of my future career. It feels like a gift!