CCT Professor, Dr. Diana Owen, Visits Panda Base in Chengdu, China
Posted in News
By: Dr. Diana Owen, CCT Professor
Visiting the giant pandas at the National Zoo has long been one of my favorite activities, especially when Tai Shan, the cub born to Mei Xiang and Tian Tian in 2005 was in residence. When Tai Shan moved to China in 2009, I hoped to someday be able to visit pandas in their native land. This past May, my husband, Jeffrey, and I had the opportunity to visit the panda base in Chengdu, China.
The Chengdu Panda Base (http://www.panda.org.cn/english/) is the world's leading center for giant panda conservation, breeding, and research. It is currently home to 83 giant pandas as well as to smaller red pandas which resemble raccoons. Jeffrey and I participated in a program where we helped a panda breeder with his daily routine. We worked with two pandas—a seven year old female and a six year old male, a famous panda named "Fifty-One" because he weighed only 51 grams at birth and is the smallest panda cub ever to survive. He is now weighs over 250 pounds and is thriving. Teenage and adult pandas spend most of their day sitting and eating bamboo, so their back legs can become weak, making breeding difficult. One of our jobs was to exercise the pandas by offering them apple slices on a bamboo stick which they would raise up to grab. We also fed them bamboo, cleaned their house, and assessed their health. We were able to hold a 10 month old panda named "Oreo," which was a highlight of our visit. Oreo weighed less than a half a pound at birth, but now tips the scales at around 50 pounds. He was extremely cuddly and sweet, and chomped on bamboo shoots coated in honey while we held him.
What do pandas have to do with communication? A great deal. Pandas have been important in the relationship between China and the United States since 1972, when China engaged in "panda diplomacy" by presenting Ling-Ling and Hsing-Hsing to the U.S. after President Nixon visited the country. Since that time, thirteen American zoos have had pandas as residents. A second panda pair, Mei Xiang and Tian Tian, is currently at the National Zoo; they are the parents of Tai Shan. We did not get to see Tai Shan, as he is at the Bifengxia Panda Base in Ya'an where he is doing his part to keep the species going. We were able to visit Mei Lan, a cub born at the Atlanta Zoo who came to China in 2010. Chinese and American scientists have been working cooperatively to ensure that pandas, an endangered species, will endure.
Photos:
Two year old panda in tree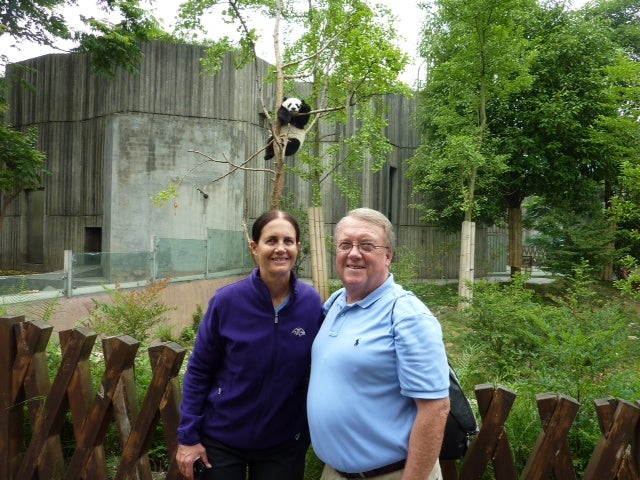 Baby pandas: Oreo is the first panda, lower left. (Source: The Discovery Channel)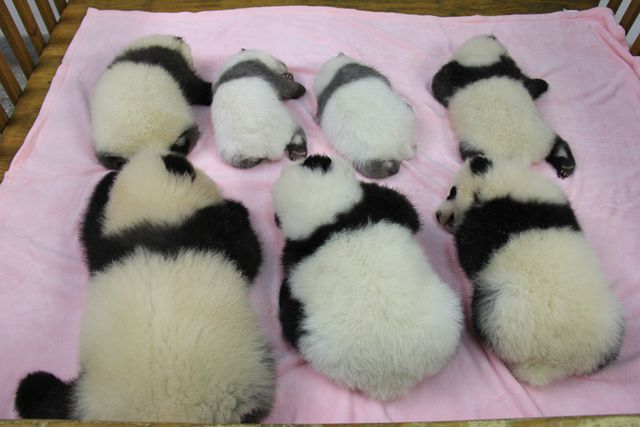 Holding Oreo