Dr. Irene Wu on Cultural Values in the Political Economy and the Case for Multilateralism
Posted in News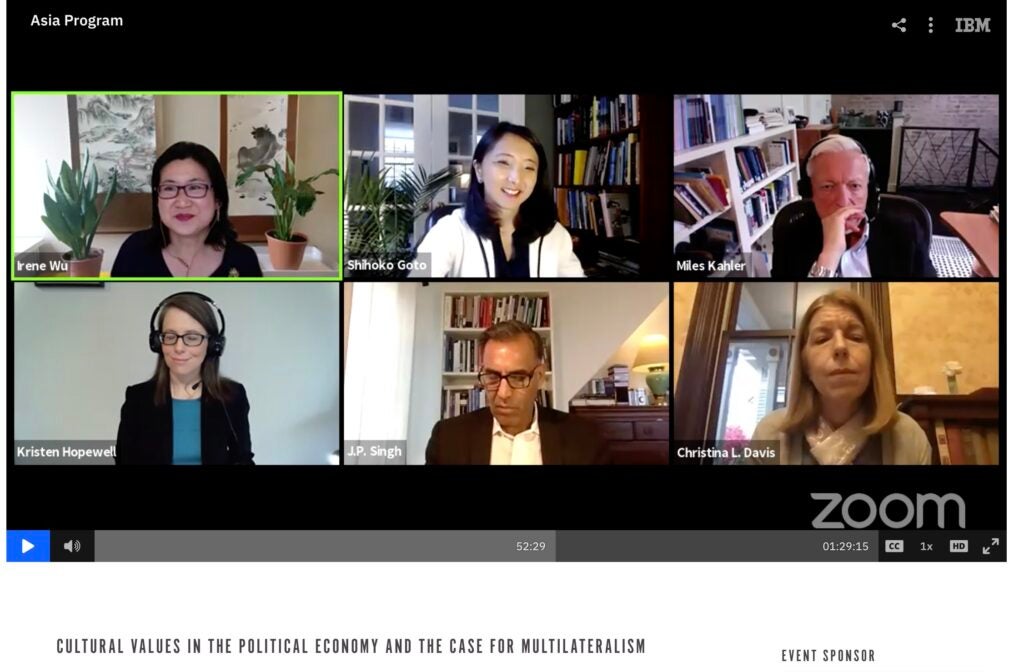 On October 29th, 2020, adjunct professor Irene Wu sat on a panel with university colleagues to discuss the newly published book Cultural Values in Political Economy to which she contributed. The panel was sponsored by the Asia Program of the Wilson Center for International Scholars which promotes intellectual discourse on the topic of political, economic, and social climates of the Asia-Pacific region as well as American interest in this economically dynamic region. 
The event description states: "Populist uprisings are on the increase as are nationalist rallies in democracies. The rise of extreme ideologies on the left as well as the right of the political spectrum too have been on the upswing. Anger and alienation from the status quo are all too apparent in many parts of the world, but do cultural values affect the political economy of multilateralism and global governance?" 
During the panel, Dr. Wu discussed her work on measuring soft power, presenting the rubric she built to assess the soft power held by countries in comparison to others. Soft power, according to Dr. Wu, can be defined as "a country's ability to persuade other countries to its point of view in a collaborative, non-coercive way." In comparing the US and China's influence in Southeast Asia, it is evident that greater multilateral engagement builds soft power in the long run. 
In addition to teaching at Georgetown University, Dr. Wu also serves as a Senior Analyst with the Federal Communications Commission. To learn more about her work visit click here. 
To hear more of the panel discussion click here.