Final Presentation Leads to Job Opportunity for CCT Student Team
Posted in News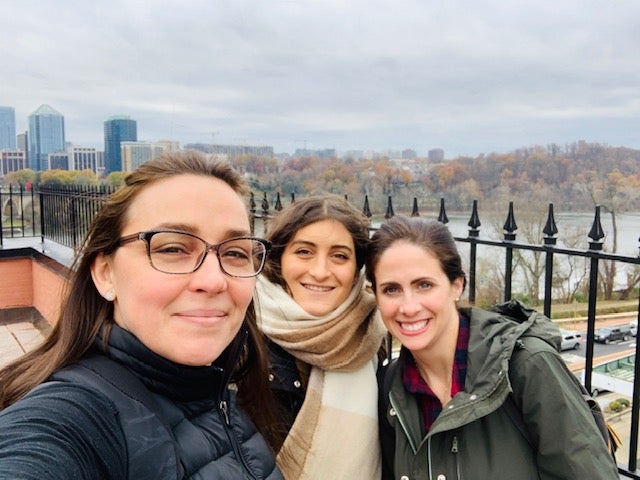 Fall of 2019, a team of three second-year students, Kristi Pelzel, Yamel Sarquis Elias, and Brittany Panetta, succeeded in their final project and were presented with a job opportunity following their final presentation in Communication, Culture & Technology's (CCT) Future of Corporate Communications class, taught by Professor Robert Matthews. 
As part of the final, Professor Matthews brought in companies from Georgetown's Venture Lab to act as clients for student groups, leading them to build a comprehensive digital marketing and communications plan to pitch as their final project. 
Kristi, Brittany, and Yamel, assigned to Hyde Closet, a men's clothing rental startup, worked with Rahul Jindal, the founder, taking a deep dive into his current analytics and marketing methods. They researched trends, audiences and added recommendations based on their expertise. "Our proposal focused on a narrative that builds trust with the consumer through an engaging website and an outreach campaign, including social media and partnerships," said Yamel.
Before the final presentation, they presented a "pre-pitch," resulting in a 50% increase in website activity across segments when the CEO began implementing initial proposed ideas. Kristi explains the success, "CCT is an interdisciplinary program, making our student teams quite diverse. This is an excellent example of a group that comes from different backgrounds in policy, public relations, and data storytelling, able to create communication solutions through discovering how our differences nested together to reach goals."
After delivering the final pitch to the Hyde Closet team and a panel of high-level marketing executives selected by Professor Matthews, the team was asked to take a meeting and offered consulting positions to implement their pitch and communication plan for the startup.  "We were excited to take on this project and be considered for opportunities beyond the classroom. This has broadened our experience as we prepare for graduation in the Spring and hope it will inspire other students to work with local companies" says Brittany.