4 CCT Students Named UN Association Graduate Fellows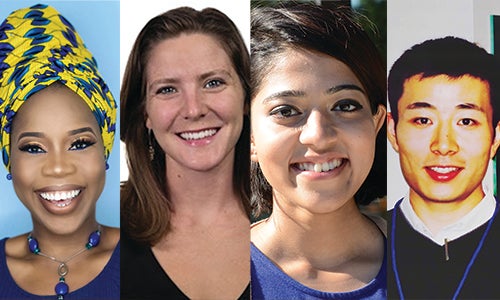 Grace Chimezie, Grace Maliska, Atina Karim and Yang Jiang have been named Graduate Fellows of the United Nations Association of the National Capital Area (UNA-NCA).
The UNA-NCA Graduate Fellows Program provides an opportunity for Washington, D.C. area graduate students interested in international affairs, development, trade, finance, and related disciplines to explore the role of the United Nations within the context of modern global affairs and other international organizations. The Fellows Program offers participants the chance to build strong professional and academic skills through relevant internship experiences and a series of seminars on global issues and the United Nations.
The UNA-NCA Graduate Fellows Program has a mission of bringing together the resources of the organization and the 15 members of the Consortium of Universities of the Washington Metropolitan Area, providing Fellows with access to the United Nations system of agencies and a diverse range of professional relationships. The Program includes seminar sessions, membership in the UNA-USA GenUN Program, an opportunity to be mentored by a senior Washington, D.C.-based professional, networking opportunities, and the production of a publishable article on a relevant UN related topic.
Grace Chimezie is a first-year CCT student from Nigeria, focusing on studies of communication, development, innovation, and entrepreneurship. She is founder of the online fashion retailer GAFA Sandals and lead content creator for GAFASHION.
Grace Maliska is a first-year CCT student studying global governance organizations, equality movements, Buddhism, sustainability, and women's rights.
Atina Karim is a second-year CCT student from Bangladesh. She is interested in data analytics and its role in development.
Yang Jiang is a second-year CCT student from China. A tech freelancer, he is interested in marketing communication as well as international journalism.