GU-Q Hosts Technology and Media Program in Qatar
Posted in News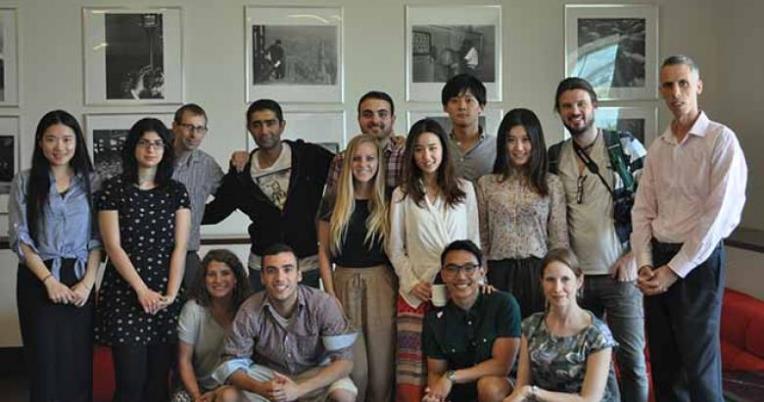 From May 18 to June 5 Georgetown University in Qatar (GU-Q) is hosting a graduate-level program called New Communication Technologies in the Arab World: Perspectives from the Gulf. This new initiative is an intensive three-week study tour that brings a group of masters students from Georgetown's Washington, D.C., campus to Georgetown's campus at Education City to study media and technology.
The program helps students reflect on the relationship between evolving information and communication technologies and transformative processes of globalization. The highly interdisciplinary and interactive curriculum emphasizes experiential learning through educational partnerships. The program features guest speakers, experts, and practitioners from Al Jazeera, Qatar Museum Authority (QMA), Qatar University (QU), Northwestern University in Qatar (NU-Q), Qatar Computing Research Institute (QCRI), and GU-Q's Center for International and Regional Studies (CIRS).
GU-Q Professor Mohamed Zayani, a media scholar and the program's co-director, explained the appeal of the program: "Increasingly, there is a desire to learn not only about the region, but also from the region. Doha is home to Al Jazeera Network, which has become a global media player. The network provides a rich case study for those who are interested in studying media flows from the global South." According to Zayani, the program offers an alternative educational experience and curricula. He said, "We look at this as a high impact educational program that enriches the students' experience and offers them a comparative perspective from which they can critically reflect on the evolving global media scene."
Program co-director J.R. Osborn, assistant professor of Communication, Culture, and Technology at Georgetown University, said that a key focus of the program is the relationship between technology and culture in the Arab world. "Digital technology is affecting culture at an incredibly rapid pace," Osborn explained. "Evolving trends, emerging alternative networks, and technological trends currently in use in the Middle East are creating meaningful legacies, regionally and globally. The students are quite fortunate to have the opportunity to undertake such study in the State of Qatar, a nation both ideally located for this topic and recognized globally for its skillful foresight of the emerging international knowledge economy."

This year the program coincides with the Al Jazeera Forum, which gives the students the opportunity to participate in this annual internationally-acclaimed convening of leading thinkers and strategists. This involves the students attending the Forum's panels, and interviewing and networking with journalists, editors, and media professionals from around the world.
One of the innovative components of the summer program is the ability to use applied research methodologies to study the digital Middle East. Working with QCRI, students learn to use a tool that auto-tags and classifies social media traffic. They apply and administer this tool to social media traffic emanating from the Al Jazeera Forum and, once the Forum concludes, they analyze the data with QCRI researchers who specialize in new technologies. This cooperation among Georgetown, QCRI, and other institutions benefits Qatar through the collection of useful data that connects local partners through collaborative research.
Dr. David W. Lightfoot, the director of Georgetown's Communication, Culture and Technology Program, described how the program deals primarily with the relationship between new communication technologies and innovations in modern life, in the world of government, in business, in science, in journalism, in the arts, and more.
Lightfoot said: "For several years we have run a summer program in Geneva, dealing with issues of trade in the digital domain in a city where there are several international organizations focused on these matters, notably the World Trade Organization and the United Nations Organization. Now we are launching an exciting new summer program in a country that has developed its communication technology in a way that has led to enormous national influence throughout the Middle East and elsewhere."
"Drs. Osborn and Zayani have mapped out a wonderful, very intensive syllabus that will take students to some of the great Qatari institutions like Al Jazeera, the Qatar Computing Research Institute, the Museum of Islamic Art, and others, engage them in deep reading about Qatari developments, and introduce them to key thinkers," Lightfoot added. "I expect this to be a transformative experience for our students and hope that it will be an exciting beginning of a long cooperation between CCT and GU-Q."
GU-Q's Dean Gerd Nonneman heralded the program and said: "The mission of CCT's summer program in Doha meshes with the goals of Qatar 2030, while being just as important to those joining it from elsewhere. It shows the kind of innovation in curricular design that will serve the evolving needs of audiences here and worldwide. The three-week intensive graduate program is a mixture of classroom learning and the sort of hands-on research and 'immersion' that becomes possible by leveraging the rich environment that Doha offers, including not least Al-Jazeera and a host of cultural resources."
The program on New Communication Technologies and Politics in the Arab World: Perspectives from the Gulf is offered in cooperation with the Communication, Culture and Technology (CCT) Masters Program and the Office of International Programs, both based at Georgetown University's campus in Washington, D.C. The classes are taking place at Georgetown's campus at Education City in Qatar and are complemented with site visits to Al Jazeera Network, the National Museum of Qatar, the Museum of Islamic Art, and the Mathaf Arab Museum of Modern Art.