State of Technology in the Global Newsroom Study Released
Posted in News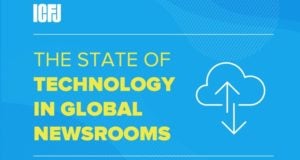 The International Society for Journalists (ICFJ) has released a major report on The State of Technology in Global Newsrooms authored by CCT professor Dr. Diana Owen in collaboration
with ICFJ's Fatima Bahja (CCT '15) and Sharon Moshavi. Katie Hartzell (CCT '19) and current CCT student Jenny Lee assisted with the research. The report is a follow-up to the first-ever
global survey on the adoption of new technologies in the news media that the team produced in 2017.
The current study is based on a survey of over 4,000 journalists and newsroom managers in 149 countries that was administered in fourteen languages. The research was funded by
Google News Initiative and Fusion. The report will be recognized at ICFJ's 35th Anniversary Gala on November 7, 2019. The report covers an extensive array of topics, including the changing media landscape, the journalism profession, and the job market for journalists. Traditional news outlets increasingly are transforming into hybrid newsrooms. The emergence of digital-only news start-ups that was evident in 2017 has slowed markedly. Staff cuts continue to be a challenge for most newsrooms, especially larger organizations. Although technology use is growing steadily, newsrooms are not hiring additional tech specialists. Most jobs in the journalism field are for reporters and content producers. In fact, newsrooms are having difficulty finding top talent to fill writing positions. A key finding is that women are becoming more prominent in newsrooms; however, they remain underrepresented in top-level positions. The report examines how journalists and newsrooms are using digital tools. Digital tools have transformed every aspect of journalists' work, mostly for the better. Journalists are using digital tools to secure their data, produce analytics, and engage with their audiences. Newsrooms are highly concerned about misinformation and the loss of audience trust, and are increasing their fact-checking activities. The report also looks at newsroom business models and major challenges facing the news industry.