Nicholas Budler
"CCT offered me the chance to combine my eclectic communications background and wide-ranging digital interests."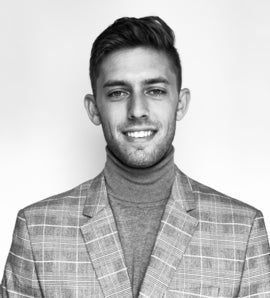 Academic Background: BA in Philosophy; minors in Economics and German
Area of focus in CCT: Digital communications, emerging technology, and the digitalization of life
What did you do before CCT? I deferred for a year to take an English teaching fellowship in Zhejiang, China. I returned to the U.S. early because of COVID-19 and started working in Digital Communications. Once the semester started remotely, I continued working and studying full-time. I'm now a Communications Specialist at a non-profit that focuses on international development while I complete my final year at CCT.
What activities do you participate in? I write for Gnovis and The Georgetown Voice. I'm also in the Georgetown Explorer's Club. I also attend the Meet CCT Alumni panels whenever possible.
Why did you choose CCT? CCT offered me the chance to combine my eclectic communications background and wide-ranging digital interests – writing about Discord [an instant messaging and digital distribution platform] and online mobilization for Gnovis, for example, and being able to take electives that would propel my current career in communications.
Also, the CCT leadership – Ai-Hui in particular – were very instrumental. In comparison to an Ivy League school I was considering, they got to know me, helped me, and treated me more like an adult than a student. I felt confident that they supported my deferral choice and supported me through the process.
What surprised you about CCT? I was surprised by the wide range of students' interests, and how passionately students pursued them through CCT. I like that people are very much on their own paths at this point in their academic career, but find ways to connect their work to the work of other classmates in creative ways.