Randy Cantz
"The program's extraordinarily versatile multidisciplinary perspective bridges histories of technology, interdisciplinary problem solving, and theory."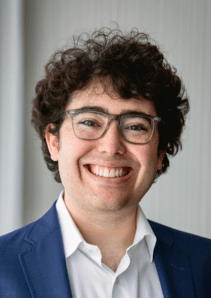 Academic Background: BA in History and minor in Public Policy from the University of California, Berkeley.
Area of focus in CCT: Privacy Law, Tech Policy, and Internet Governance
What did you do before CCT? Prior to CCT, I graduated from UC Berkeley with honors in History and a minor in Public Policy. As an undergrad, I was President of the History Honor Society, a Senior Associate for the Chief Legal Officer in the ASUC's Office of Legal Affairs, taught a class on the Dangers of Online Hate, and interned for Congressman Brad Sherman for two summers. Immediately following my graduation, I had the privilege of working with TechGC, Repair the World, ONEgeneration, Henry Stern's Campaign for LA Board of Supervisors, and Lovi Properties–all of which critically honed my worldview and ultimately pointed me toward CCT.
What activities do you participate in at CCT? I'm currently serving as CCT's Senator in GradGov, where my goal is to elevate the voices of our extraordinarily diverse, unique, and talented students, enhance our intellectual community, and ensure every student in our program receives the attention and resources they deserve from Georgetown's administration. I also was elected to represent the Graduate School of Arts and Sciences as a member of the Senate Leadership Committee and serve on the Web and Tech Committee. Outside of GradGov, I'm an active participant in the Georgetown Technology Policy Initiative (GTPI) and look forward to working with Dr. Meg Leta Jones to research how the use of biometric data, such as fingerprints, facial recognition, and genetics, can inform how we regulate sensitive data.
Why did you choose CCT? I chose CCT because the program's extraordinarily versatile multidisciplinary perspective bridging histories of technology, interdisciplinary problem solving, and theory to better understand the impact of technology on society and society on technology perfectly aligned with my interest in exploring technology law and policy. CCT is the only graduate program in the country that enables students to approach these topics from a rigorous, multidisciplinary lens and work alongside world-class professors engaging in pioneering interdisciplinary research. Plus, I loved having the flexibility to explore a wide range of electives both within and outside of the program itself as well as the opportunity to study in Washington DC.
What surprised you about CCT? I was surprised by the diversity of our class as we truly have students from all over the world who bring unique perspectives and insights to the program. I was also surprised by how friendly and accessible students and faculty are. CCT is an intellectually rich and vibrant community with access to all of Georgetown's events and so much goes on every day in DC that it's truly incredible.