Rutvi Zamre
"CCT was the only Master's program I applied to that truly captured all my interests."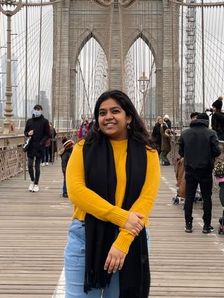 Academic Background: BA in English with a minor in History from Ashoka University, India
Area of focus in CCT: New media, politics, and culture; I am interested in studying social media as a tool of empowerment for marginalized communities
What did you do before CCT? I graduated with a Bachelor's degree in English in 2019 and did a year-long postgraduate diploma in research after that. For a year during the pandemic, I did various internships – I worked as a teaching fellow for one of my professors at Ashoka University, as a research intern for two New Delhi-based think tanks, and as a marketing intern for a digital marketing firm.
What activities do you participate in at CCT? I am a Communications Assistant at the CCT front desk. I am an International Ambassador for the Office of Global Services – I help incoming international students like myself navigate OGS and Georgetown resources, as well as advise on their transition to life in Washington, DC. I am also a volunteer with the Georgetown University Pivot Program, an initiative by the McDonough School of Business, which helps formerly incarcerated individuals receive a custom certificate in business and entrepreneurship.
Why did you choose CCT? CCT was the only Master's program I applied to that truly captured all my interests – it brought together my fascination for studying social media and new media technology in combination with politics and culture. Also, everyone at CCT was really friendly to me when I was a prospective student!
What surprised you about CCT? I was surprised by the variety of interests that CCT students have! No two people in the program have the same interests, and I think that's great – that's a reflection of how diverse you can be with what you want to do in the program. There is no "right" path, which is very conducive to doing something you actually care about and love. I was also surprised by how friendly and approachable everyone is, especially the faculty – they want to help you do well and succeed as much as they can!