Salomón Flamenco
"CCT's interdisciplinary environment seemed the perfect fit for me, helping to expand on what I have done in the past while also building a solid foundation for future endeavors."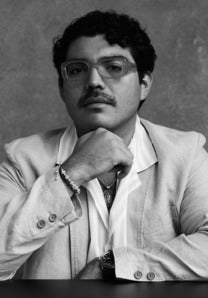 Academic Background: My undergraduate degree was a BA in Political Science with a focus on comparative politics.
Area of focus in CCT: My focus is on diasporic identity formation in culture and media, especially as it relates to the children of diaspora in the United States. Alongside this focus, I have also dedicated my time to honing my passion for media specialization, with experience in audio-visual editing, podcast production, and writing (fiction & non-fiction).
What did you do before CCT? My professional experience ranges from social media content production & strategy for political campaigns, student organizations, and business development gained from working with a large media holding company in New York.
What activities do you participate in at CCT? Studying. On the side, I also help with the Gnovis journal on their podcast division while continuing to build out my audio portfolio. I am also actively trying to build a CCT film festival, showing classics and student-made films.
Why did you choose CCT? I chose CCT because I wanted to build on my previous studies and experiences. With a political science and media background, CCT's interdisciplinary environment seemed the perfect fit for me, helping to expand on what I have done in the past while also building a solid foundation for future endeavors.
What surprised you about CCT? The program is incredibly international, which I love because it adds a plethora of perspectives and experiences. The program is also incredibly interdisciplinary, so every professor has a unique background and niche. Whatever you want to study at CCT can be built from at least one professor's previous work. A truly unique experience.