Lucy Obus, CCT 2018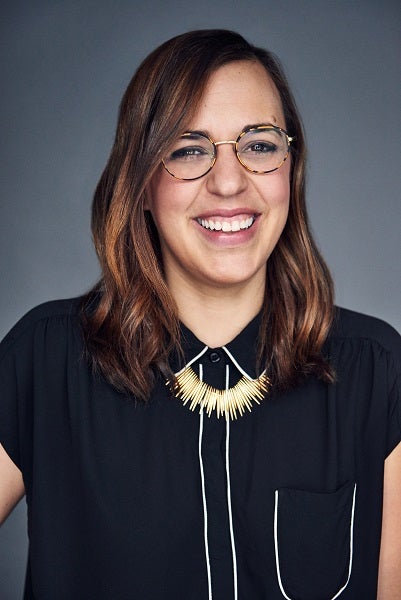 Undergraduate institution & major: Georgetown University, American Studies, Theatre & Performance Studies
Area of focus in CCT: Design Research And Sustainability
What did you do before CCT? I worked in various strategy, marketing and communications positions at New York nonprofits. Just before I came to CCT, I was coordinating Special Events and Fundraising at Lincoln Center for the Performing Arts.
What activities do you participate in at CCT? I made it a habit to be an active participant at as many CCT extracurricular activities as possible, because to me, grad school is a holistic experience that takes place in and out of the classroom, and our cohort was a hoot! I was a CCT Tech Tour Producer and smiled proudly at the CCT front desk as a student assistant.
Why did you choose CCT? Looking at graduate programs, I repeatedly expressed that what I wanted to learn wasn't offered in a program yet, a process I affectionately termed "the Goldilocks experience" (program A is too myopic, program B makes me take classes I'm not interested in, program C is geared towards nonprofits, etc.) I was also conscious of my age and experience (I'd been working for five years) and wanted a program that could help me pivot appropriately from that vantage point. CCT sticks to its interdisciplinary goals, drawing scholars from numerous fields with varied objectives and allowing them to craft their program accordingly and put theory into immediate practice; that's what sold me. Having already attended Georgetown University as an undergraduate student, I was confident that the environment and educational experience would be engaging and multifaceted.
What surprised you about CCT? We often hear the phrase "we are preparing our kids for jobs that don't exist yet," and I was happily surprised at CCT's ability to prepare students to understand the rapidly changing world and the jobs needed for it. I'm also constantly surprised (perhaps impressed) to see where CCT alumni go on to work; the network is vast and dynamic!
What are you doing now? I currently work as the Senior User Experience Researcher at Chan Zuckerberg Initiative, where I help build open source technologies that help biologists analyze microscopic images vital to their scientific pursuits. UX research was a job I didn't know existed (and wouldn't have been prepared for) prior to CCT. I work with Academics, hardware and software experts, and imaging advocates to identify and tap into key user insights through myriad qualitative and quantitative research methods, building solutions that best serve community needs.